Hot Springs Mountain Trail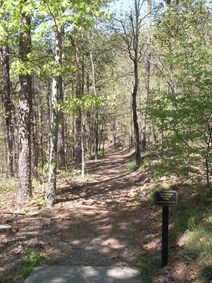 Considered one of the most rewarding trails in the park, this pleasant walk begins at the Pagoda shelter just below the Hot Springs Mountain Tower. Going away from the picnic area, the trail descends through a beautiful mixed hardwood and pine forest. The lower slope is steep, but offers breath-taking vistas. About halfway down, a trail shelter marks the Gulpha Gorge Trail intersection.
Continue along the trail and descend the western side of the slope, turning left at the first junction (continuing straight would would put you on the Dogwood Trail). Take the serpentine path to Hot Springs Mountain Drive, cross it, and hike up the western slope of Hot Springs Mountain. At the junction with Honeysuckle Trail, stay left to complete the loop. Cross Hot Springs Mountain Drive two more times and you will arrive back at the picnic area.
Last updated: April 10, 2015