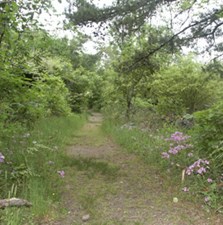 From the overlook at North Mountain, take the short hike below the overlook and stay right, noting the novaculite stone bars placed to prevent erosion.
Below the third switchback, the lower side of the trail opens to flowery glades that offer vistas of Indian Mountain and east Hot Springs. The trail becomes uneven and rocky here. After several hundred feet you will pass beneath huge novaculite boulders. Goat Rock Overlook is forty feet above you. A sign indicates the stairway to the overlook. Stone steps rise 240 nonvertical feet to the summit, which showcases a spectacular view of Indian Mountain.
Return down the steps to continue on Goat Rock Trail. The trail descends to the Gulpha Gorge Trail, which descends in a serpentine path to the Gulpha Gorge Campground. From the junction with the Gulpha Gorge Trail, you can also take the right path up the mountain to rejoin the Hot Springs Mountain Trail.