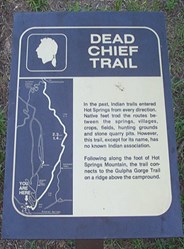 From the Dead Chief Trailhead at the Army-Navy gate above the Stevens Balustrade, this trail intersects with the Gulpha Gorge Trail for the easiest walk (1.6 miles) from Bathhouse Row to the park campground at Gulpha Gorge. At first, the route is quite steep, then the trail levels off and continues across the south slope of Hot Springs Mountain towards Gulpha Gorge.
The historic Oertel Fitness Trail, completed in 1915, once followed what is now the west end of Dead Chief Trail. The portion of Dead Chief Trail below the Shortcut Trail intersection was part of the Red Trail, the most strenuous of the Oertel system's exercise program.
Read more about the Oertel System of Graduated Exercise in this .pdf page.