175th Anniversary of Hot Springs Reservation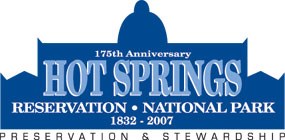 2007 was a big year for Hot Springs National Park.
It was the 175th anniversary of the creation of the park's forerunner, Hot Springs Reservation, on April 20, 1832.
April 20, 2007, the park hosted activities beginning at 9:30 a.m. and continuing into the evening, at locations throughout the Bathhouse Row National Historic Landmark District of the park. Most bathhouse lobbies were open for viewing with special history exhibits in the Ozark Bathhouse. A ceremony with remarks by dignitaries began at 3 p.m. On April 21, the park hosted concerts on the Arlington Lawn throughout the day beginning at noon. The park also issued a commemorative stamp cachet.
Click here for a detailed schedule.
Voices from the Past: A Walk through History was an event that held April 27, 2007. It provided a glimpse into some of the significant stories that make up the history of this, the oldest protected area of the National Park System. There were stations with living history interpreters, and visitors walked from one to the other to hear what each had to say. We are developing lesson plans for teachers to use with this event. An American Sign Language Interpreter was also on hand. Here is more information.
Walk through History was supported in part by a grant from the Arkansas Humanities Council and the National Endowment for the Humanities with donations from the Friends of the Fordyce and Hot Springs National Park, Inc., Eastern National and WalMart. The park gratefully acknowledges their contributions.
Throughout the year, community groups helped us celebrate the anniversary, too, like the Hot Springs Music Festival, the Hot Springs Documentary Film Festival, Garvan Woodland Gardens and more. The park thanks everyone who worked to make this celebration an event to remember, especially the Friends of the Fordyce and Hot Springs National Park.
For more information call the park at 501-620-6701 or e-mail us.
Last updated: April 10, 2015