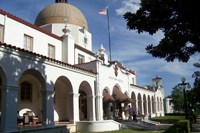 Hello, I'm Ranger Mark Blaeuer and we're in Hot Springs National Park in the National Historic Landmark District, Bathhouse Row and this particular building is the Quapaw Bathhouse. It occupies actually two bathhouse lots; it replaced the Horseshoe and Magnesia Bathhouses. It opened in 1922, and was designed by Eugene John Stern and George Mann who did a lot of other work on Bathhouse Row and nearby and it's Spanish Colonial Revival architecture. It has a north African influenced mosaic tile dome with chevrons and mythological European figures like Pan and Peguses or a unicorn some say. Also, on either end above the ends of the bathhouses, and in the front, are scallops with spiny sculpin fish inside and those both empasize the watery nature of the bathing industry. I might mention that the scallop was originally related to a Spanish saint, Santiago de Compostela, but eventually it just became a standard feature of Spanish Colonial Revival architecture.
Now, contrasting with that, is the scallop over the front entrance. Inside that is a carving of an Indian in Plains headdress. That actually was added to building as a change from Mann and Stern had decided would be there. It was originally going to be a boy pouring water from an urn, but they changed that basically to complement some of their attractions inside. They had American Indian artifacts on display, and sort of a tunnel cave that was built in the basement and said to be related to American Indians. In fact, the name of the building is the name of a tribe in southeast Arkansas, the Quapaw. They were sometimes called the Akansea by other groups and the name of the state comes from that. Their own name, though, Quapaw, is a corruption of O'Gapah ? that means "the downstream people." They actually came from the Ohio River valley to what's now Arkansas. This building closed in 1984 as a bathhouse. It sat vacant but is now used by Quapaw Baths, LLC, a modern hot springs spa.
Read more about the history of the building.