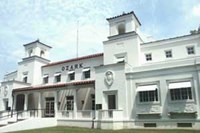 Hello, I'm ranger Mark Blaeuer, and we're standing in front of the Ozark Bathhouse. The Ozark was named after an earlier Ozark that stood on the same location. That one was built in the 1880s. This one was completed in 1922. It got that name because at that point, in the 1880s, all mountains in Arkansas were basically called the Ozarks and thought to be related. The Ozark name simply implies fresh air, fresh mountain water, which a lot of the health seekers coming to this famous American spa would have been interested in. This Ozark closed in 1977 and has just been leased out to be a contemporary art museum. It was designed by a well known local firm, of George Mann and Eugene John Stern. George Mann, in fact, designed the state capitol in Little Rock. They together designed quite a number of buildings on Bathhouse Row and in the area.
A lot of the features on here are very typical of the style, which is Spanish Colonial Revival: the red tile roof; the architectural bell towers or campaniles; you also have the sun porch in front, with railings for people to set their feet on while they took the sun. Also, you have window boxes in front with some mythological figures: griffins, and water coming out of an urn (of course the water representing the waters of Hot Springs National Park). Also, you can see cartouches on the front walls, and those oval discs called cartouches are featuring the Tree of Life, which may be reflective of how a lot of the people who came here wanted to prolong their lives or improve them by bathing in the waters.
Read more about the history of the building.