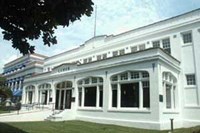 Hello, I'm ranger Mark Blaeuer, and we're standing in front of the Lamar Bathhouse right now. The Lamar opened in 1923. It was designed by Harry Schwebke, who had offices in Oklahoma and Arkansas. It was named after an earlier Lamar that stood on the same site. That was built in the 1880s. This Lamar was the last of the bathhouses to close. It closed in 1985. It is designed in a style that some people have referred to as California Modern.
The name of the building, Lamar, comes from Lucius Quintus Cincinnatus Lamar, who was originally from Georgia, moved to Mississippi where he became a Confederate officer, ambassador, legislator, senator, Interior Secretary, and eventually Supreme Court justice, and he championed Confederate veterans' rights after the Civil War, so various things are named after him across the country as a result, including the Lamar River in Yellowstone, another national park. Now you can see from the metal plaques on the building that by the 1930s, when those plaques went on, they had forgotten who Mr. Lamar was, because they separated his name into two words. And when I came to work here, years ago, there were some people who were saying that LA'MAR meant "the sea," but it's actually named after L.Q.C. Lamar, a famous figure in American history. This building has the largest lobby of any building on the Row, and it includes some nice murals that were painted, a few years after the building opened, by a J.W. Zelm, a Danish artist who lived in Texas.
Read more about the history of the building.