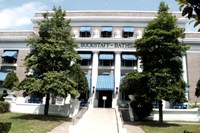 I'm ranger Mark Blaeuer, and we're standing at the Buckstaff Bathhouse. The Buckstaff opened in 1912. It was designed by Frank Gibb, who came to Arkansas from Rutland, Vermont. He actually made a living out of designing courthouses, county courthouses in Arkansas for the most part. You can see the influence up there. The columns are features of what's called Neo-Classical Revival style architecture. In fact one park superintendent said that this building reminded him of the Irish House of Parliament.
It has never closed. It is still in business, so you will see people walking in and out of it during the course of the day. They still do traditional baths there. It's named for George and Milo Buckstaff, who had controlling interests of the building when it first opened. The place where it's located had other bathhouses there before that, notably one called the Rammelsberg. It was very common for bathhouses to be named after the people who owned them, although that wasn't always the case. The urns in front are actually functional urns up on the porch there. However, they do reflect the architectural urns up on the third floor level. This building was one of the nicer bathhouses on the Row. It did have a music room with a piano; they did hold concerts up there occasionally in the days when it was new. So this is, at the moment, the only active traditional bathhouse on Bathhouse Row.
Read more about the history of the building.