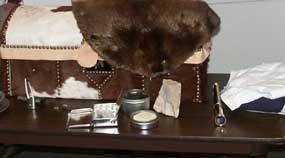 Dunbar-Hunter Expedition Traveling Trunk
Hot Springs National Park has created two trunks containing reproductions of items taken on expeditions such as the 1804-05 Dunbar-Hunter Expedition, along with furs of a few animals that were being trapped here at that time. The Dunbar-Hunter Expedition was commissioned by President Jefferson as the first scientific expedition to the "hot springs on the Washita," the area that became Hot Springs National Park. The trunk also includes a lesson plan created by Ms. Sherry Tipps, Arkansas history teacher at Carl Stuart Middle School in Conway, Arkansas. We hope that these items will bring to life a significant but frequently overlooked expedition, while showing students how Arkansas and the hot springs relate to the Louisiana Purchase.
Teachers wanting to reserve a trunk, need to make a reservation with the Interpretation Department of Hot Springs National Park, 501-620-6715, or by e-mail at e-mail us. Trunks will be picked up and returned to the Hot Springs National Park Visitor Center in the Fordyce Bathhouse, 369 Central Ave.
We would like to thank Weyerhaeuser Corporation Foundation for partnering with us to fund the traveling trunks.