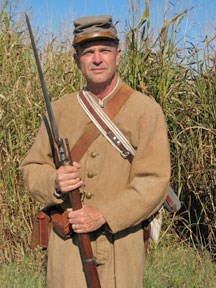 April 26-27, 2012
9 a.m. to 1:30 p.m. each day
Hot Springs, 1862--The War had begun to have an impact: by limiting supplies; men were going to fight for both sides, leaving women, children, and elderly men behind; and for three weeks, Governor Rector moved the state records to his hotel/bathhouse for safekeeping. Students will be able to interact with living history characters to hear their stories. Reserve a spot for your class to attend the living history presentations as you rotate to different stations. Rotations will be assigned.
Classes will rotate between six stations with one rotation beginning at 9 and ending at 10:45, and another rotation beginning at 10:45 a.m. and ending at 1:30 each day. Here's a taste of what you can expect:
• Susan Scott Gaskin, wife of a Unionist-What were the implications for a Unionist's family in a Confederate state?
• How I got my Enfield rifle-Hear the story of a new Confederate recruit
• One Dress, Civil War-Those left at home had to make do with very little. Find out how a woman with only one dress would make it work for all occasions.
• Civil War Medicine-What kind of injuries did the weapons make and how were wounds treated?
Fill out a reservation form and e-mail it to the education coordinator. Six different classes will start at 9 and at 10:45. If you are planning to bring several classes, please make a reservation early.

If it rains, living history characters will be located inside bathhouses on Bathhouse Row.