Park Planning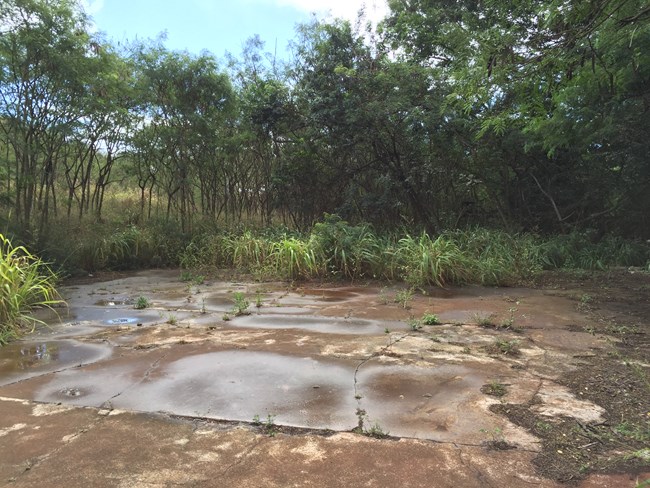 Planning Information and Updates
The Honouliuli site was brought to the public eye by staff and volunteers from the Japanese Cultural Center of Hawai'i (JCCH) in 2002. Since that time, the former internment and prisoner of war camp has been the focus of scholarship and awareness campaigns by local organizations, academic institutions, community members and students. It was due in large part to these efforts that Honouliuli was listed on the National Register of Historic Places in 2012, and subsequently determined eligible for inclusion in the National Park System in 2015.

Planning a new park unit is both an exciting and a challenging task, as each stage of planning and development must be analyzed from multiple perspectives and ensure that impacts to the cultural and natural resources that NPS stewards are minimized. Below is some information on current planning actions which are underway. Although these are the focal points of planning at the moment, these summaries do not adequately reflect all the administrative and operational tasks being undertaken by NPS which will help move monument planning forward. If you'd like more information, please see the links to the Honouliuli Newsletters below.

Resource Inventory
Before a site design or management strategy for Honouliuli can be created, it is necessary to first understand the scope of extant resources at the site and determine which are character-defining features of the national monument. Although interrelated, three fundamental inventory types are required in order to establish critical, baseline resource data for Honouliuli planning:

Archeological Inventory - Features & Artifacts.
Structures at Honouliuli were dismantled after the camp's closure in 1946; however, features such as concrete building foundations, elements of utility systems and camp-era objects still remain either partially-exposed, or buried underground. These features provide a tangible connection to the past and will serve as a critical component of future visitors' experiences at Honouliuli. In order to manage and maintain these resources for public education, NPS is working to develop an inventory of archeological features which remain at the site through a partnership with The University of Hawai'i West O'ahu (UHWO). The UHWO-NPS program enables students to learn about archeological field techniques and gain hands-on field experience through a 6-week session at the National Monument. Commencing in 2016, this project will continue through 2018 and beyond.

Archeological Inventory - Roads and Pathways.
In addition to other infrastructural elements of the former camp, determining where primary roads and pathways used to be located will influence the course of future site development. Researching and mapping these routes will not only lead to a better understanding of the layout of the former camp, but open up opportunities for future trail restoration projects which have a minimal impact on the historical integrity of the site and increase visitor access. In order to carry out this work, NPS has established a contract with International Archeology which is set to commence in 2018. Throughout 2018 and into 2019, IA will be using their expertise to ensure that select roads and pathways are delineated, mapped and documented in an archeological sense.

Cultural Landscape Inventory
Whereas archeological features comprise the physical and material remains of the site, cultural landscapes consider historically-significant landscape characteristics (topography, vegetation, natural systems, etc) and how they interplay with other historical features. An initial site survey was carried out by an NPS Regional Cultural Landscape Team in 2017, and research/fieldwork for this effort is slated to begin in the first quarter of 2018.

Vegetation Inventory.
NPS has established a contract to begin vegetation survey and inventory work in 2018. Not only will expert evaluation of biological resources help monument planners and managers better manage the physical environment in the Honouliuli gulch, but will also feed into identification of cultural landscapes and ensure that all future development work at the monument is in compliance with federal environmental law.

Foundation Document
A Foundation Document is the first strategic planning document step necessary for the creation of any new park unit. The purpose of the document is to establish a unified understanding of the monument's purpose, significance, major interpretive themes and fundamental values. A second part of the Foundation Document looks at the issues a new park unit is facing, and forges a roadmap of planning and data needs to address these issues. Especially because Honouliuli is a new unit of NPS, a primary benefit of the Foundation Document is the opportunity to coordinate all levels of future planning and management from this unified understanding of what is most important about the site.

A small workshop with key project partners and subject matter experts was completed in April 2017 to generate content for the Foundation Document, and completion is slated for the second quarter of 2018. The Foundation Document Overview is now available.

Resource Restoration
Honouliuli staff is working with NPS civil engineers and architects to plan for the restoration of at-risk resources. Upcoming efforts will include re-design of a (failing) historic retaining wall, and repairs to elements of a pre-camp era aqueduct system.

NPS Partners: The Japanese Cultural Center of Hawai'i, Pacific Historic Parks, The University of Hawai'i West O'ahu.
Newsletter Links
More detailed information on planning and operations for the Honouliuli National Monument can be accessed by via the newsletters below. If you'd like to be added to our mailing list, please contact us and indicate that you'd like to receive future newsletters.

Newsletter 1 (PDF), Newsletter 1 (Plain Text)
Newsletter 2 (PDF), Newsletter 2 (Plain Text)
Newsletter 3 (PDF), Newsletter 3 (Plain Text)
Last updated: September 25, 2019