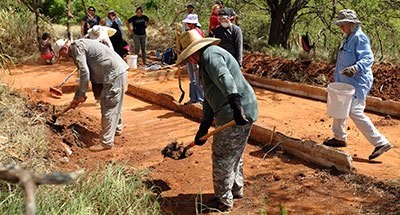 Honouliuli has been the focus of archaeological investigations long before it was designated as a National Monument in 2015. A consortium of faculty and students from the University of Hawai'i West O'ahu (UHWO), staff and volunteers from the Japanese Cultural Center of Hawai'i (JCCH), and NPS staff and volunteers have engaged in multiple sessions of archaeological fieldwork and survey, and worked to uncover World War II-era features. Much of this work has been completed under the direction of archaeologists Mary Farrell and Jeff Burton.
Honouliuli was listed on the National Register of Historic Places (NRHP) in 2012. The
NRHP report
identifies 130 features at Honouliuli which are related to the incarceration of American civilians, resident aliens and prisoners of war during World War II. Resources range from infrastructural elements such as building foundations and garbage incinerators, to surface artifacts such as historic bottles.
Although many features have been identified, there is a need to collect and coalesce existing archaeological data and incorporate this into a database for future management and preservation actions. Furthermore, all identified features need to undergo condition assessments (identifying risks and maintenance actions) and assigned accurate GPS data to both facilitate future monitoring and to ensure that no future planned actions would disturb known resources. Through a NPS-UHWO partnership spearheaded by faculty member Dr. William Belcher, participants are working to create and complete this database through a 6-week fieldwork session and pre- and post-fieldwork data analysis and archiving. This project also aims to identify and document new features in areas of Honouliuli are in need of further survey.
Phase one of this multi-year project will be completed in March of 2018.