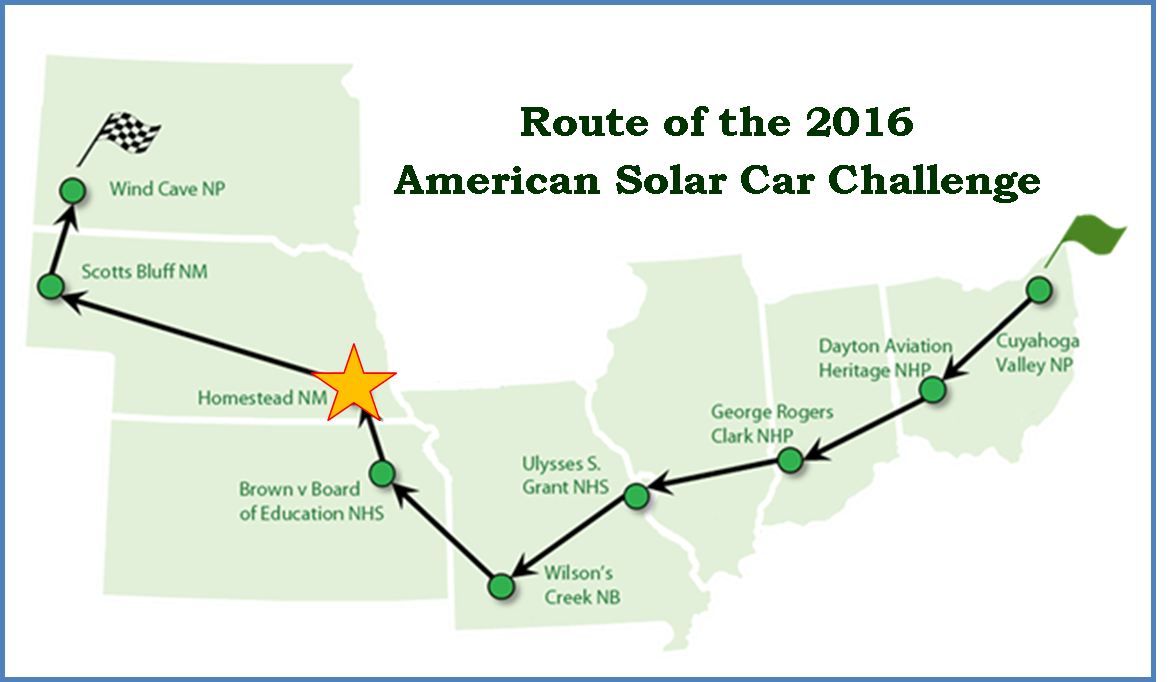 Beatrice, NE –Homestead National Monument of America is proud to support science innovation and celebrate the National Park Service Centennial by hosting a stop on the American Solar Challenge on August 4, 2016.University teams from around the world will design and build solar-powered cars, and drive them 1,975 miles on the open road during an 8-day rally.
This entire National Park Service Centennial event will take place from July 30 to August 6, 2016. Over the course of the rally, the cars will stop at nine different National Park Service sites in seven states, including Homestead National Monument of America. Homestead will be a rally stop on August 4, 2016. The cars will begin to arrive on August 3rd, 2016 from 4:00- 6:00 pm. The cars will be traveling from Topeka, Kansas on their way to Scottsbluff, Nebraska; they will stop at Homestead to recharge. Visitors are invited to see the cars and talk to the drivers while at Homestead and enjoy other activities offered the day of the rally stop, including a traveling exhibit and various booths at an Environmental Fair.
As part of the 2016 Centennial, the National Park Service has challenged itself to provide more research and education around the effects of climate change on national park resources. Among other things, the Green Parks Program encourages walking, biking, ride-sharing, and use of fuel-efficient or alternative-fuel vehicles.The American Solar Challenge highlights these efforts by bringing solar-powered cars to parks.
To learn more about the American Solar Car Challenge, click here: www.americansolarchallenge.org