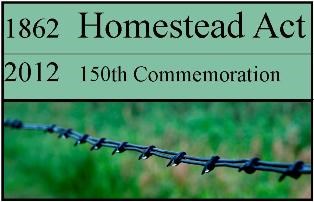 Homestead National Monument of America is excited to commemorate the 150th anniversary of the signing of the Homestead Act of 1862 next year in 2012!
You don't want to miss the once-in-a-lifetime event on May 20, 2012. Plan now to be at Homestead! We also will be hosting a variety of special programs throughout the year at the monument as well as in nearby communities, partnering with other commmunity organizations.
This commemoration will take place over a two year period. 2012 will be dedicated to the Homestead Act and activities leading up to the passage of this momentous law. 2013 will focus on the people impacted by this law, whether they were tenacious homesteaders, the townspeople building the communities around the farms, the immigrants coming to the United States for the American Dream, or the American Indians displaced by the law.
Check back soon to find details of fun activities, programs, and other special events held in conjunction with this significant year in history.