Howling Homestead 2013

Come one, come all to Howling Homestead 2013 at Homestead National Monument of America! Join park rangers, volunteers, and special guest presenters for a night full of family fun on Saturday, October 26 from 6-9 p.m. at the Homestead Heritage Center. The event will take you through entertaining and intriguing activities, from learning about bats to gazing at the stars. This event is free and no registration is necessary.
Many different presenters will make the year's Howling Homestead extra exciting. Snack on tasty cookies and warm up with apple cider. Soak in some music and have fun singing along with local music teacher Mary Shelton. Gather 'round for storytelling with Laureen Riedsel. Make a ghost out of corn husks. See "mad scientist", Dave Henning from ESU5, conduct some "explosive" experiments. Meet live snakes and learn about them from Nebraska Project WILD educators. See owls and other raptors from Fontinelle Forest's Raptor Recovery. Learn about prairie predators on a night hike with Nebraska Master Naturalist Malia Robinson. Get hands-on with amazing rocks, minerals, and fossils from the Hastings Museum. Take a closer look at the night sky with the help of the Prairie Astronomy Club. Visitors of all ages are sure to enjoy these programs and more!
Since much of the fun will take place outside, dress for the weather. Visitors are also asked to please leave Halloween costumes at home. The event is not intended to be scary, and is appropriate for all ages. Howling Homestead is funded in part by the Friends of Homestead and the Homestead Bookstores.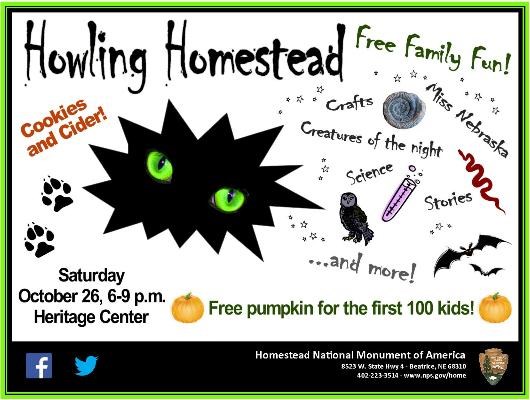 Last updated: April 10, 2015