Free Land? 1862 and the Shaping of Modern America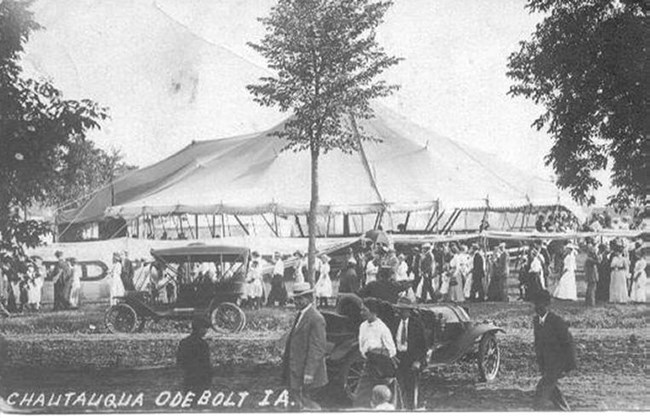 MAY 21 - MAY 25, 2012
Experience Chautauqua at Homestead!
In partnership with the Nebraska Humanities Council.
Chautauqua is an institution that began in the late 19th century to provide higher education opportunities through the combination of lectures, concerts, and public events. Traveling outdoor Chautauquas featured oratory, drama, music, and famous personalities.
Chautauqua Key Themes:
1) the unfolding of the "free soil, free labor" ideal for America held by Republican policy makers of the time;
2) the rapid economic development of the West and the nation, especially through the building of railroads;
3) the accelerated removal of Native Americans;
4) the opportunities and innovations provided by the population of the West having broader access to a public education; and
5) the opportunities and potential for social mobility of both emigrants and immigrants that an increasingly landed and educated population had in a developing American West.
The Free Land? 1862 and the Shaping of Modern America Homestead Chautauqua will explore the different aspects and impacts of three interrelated pieces of legislation passed within 6 weeks of each other in 1862: The Homestead Act, the Pacific Railway Act, and the Morrill Act. Let's explore and learn about how these acts impacted the Great Plains, the American West and the nation as a whole.
Last updated: April 10, 2015