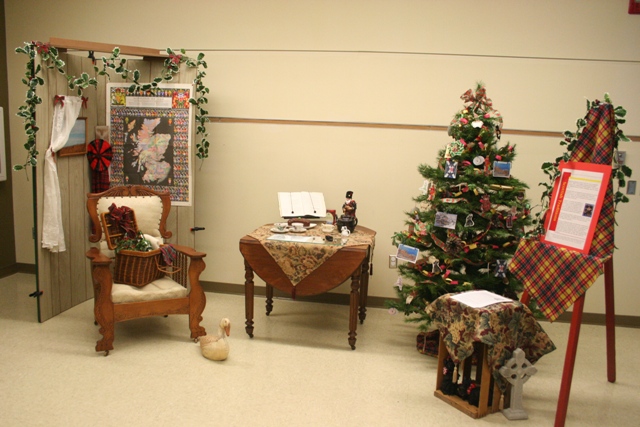 News Release Date:
November 20, 2015
Learn about the decorations of different cultures and participate in an old-fashioned tree decorating at Homestead National Monument of America's Heritage Center on Sunday, December 6, 2015 at 2 p.m. A special performance by the United Centenary Adult Bell Choir opens the event. Visitors will make ornaments from several different cultures and then decorate the tree, plus take a few decorations home for their own trees. The Friends of Homestead will provide refreshments.
The holiday tree being decorated is a 12 foot artificial Vermont White Spruce. It will sit in the Heritage Center lobby towering toward the peak of the Heritage Center overlooking the exhibits.
"We are excited to have the bell choir open this event. The decorating theme of this day is back at the request of visitors who missed this type of activity." stated Superintendent Mark Engler.
There will be another Winter Festival program presented at 2 p.m. on December 13, 2015 at the Heritage Center. This program will feature Lora Black, from Nebraska Educational Telecommunications, who will do a reading from Besse Streeter Aldrich's story about the winter barrel's arrival and Christmas on the open plains. Following her story, make a ragdoll to take home.
The Winter Festival of Prairie Cultures is available for viewing November 27, 2015 through January 4, 2016. It features the winter traditions of people who lived on the Great Plains during the homesteading era. See sparkling decorations from many countries showcasing ethnic traditions at both the Education Center and Heritage Center at Homestead National Monument of America. Decorated trees and tabletop displays feature ornaments and hand-made crafts that reflect the spirit of hope, humor, traditions, and generosity which characterized settlers of the West. Cultures represented include Czech, French, German, Hispanic, Irish, Polish, Scottish, Swedish, and Welsh.
Remember, Homestead National Monument of America has an exciting schedule of events planned for 2016. Keep up with the latest information by following us on Twitter (HomesteadNM) and Facebook (Homestead National Monument of America).
Homestead National Monument of America is a unit of the National Park Service located four miles west of Beatrice, Nebraska or 45 miles south of Lincoln, Nebraska. Hours of operation are 8:30 a.m. to 5 p.m.Monday through Friday and 9 a.m. to 5 p.m.Saturday andSunday. The park buildings will be closed on November 26,December 24 at 1 p.m. through December 25 (reopen on December 26 at 9 a.m.) and January 1, but the trails will be open from dawn to dusk. Admission is free of charge. For additional information, please call 402-223-3514 or visit https://www.nps.gov/home/index.htm.
EXPERIENCE YOUR AMERICATM
The National Park Service cares for special places saved by the American people so that all may experience our heritage.