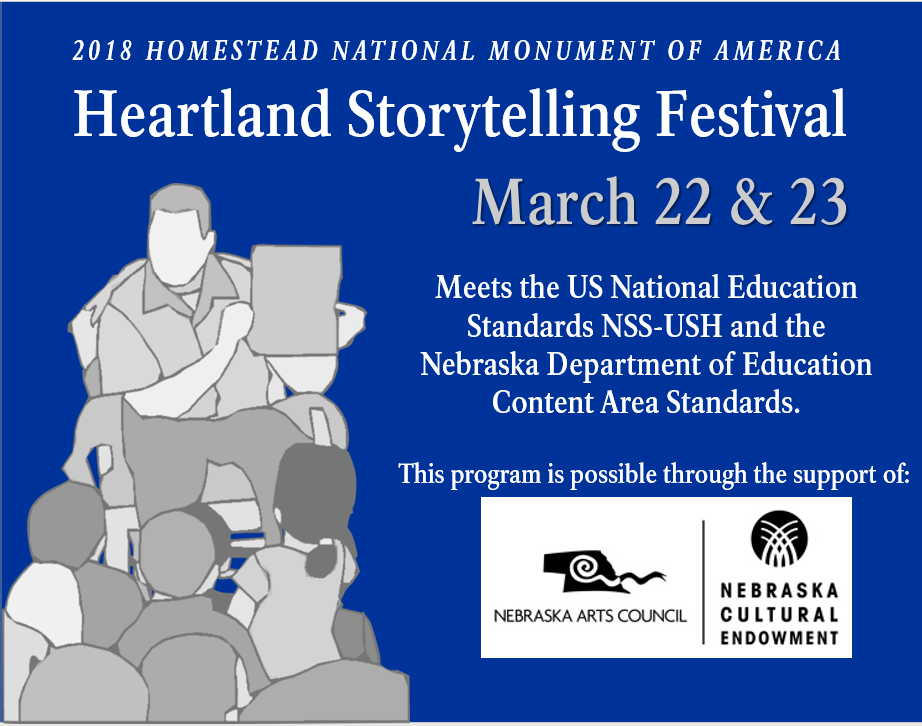 News Release Date:
February 7, 2018
Contact: Susan Cook, 402-223-3514
____________________________________________________________________________________
National Park Service        
Homestead National Monument of America
8523 W. State Hwy 4
Beatrice, NE 68310
402-223-3514 phone
402-228-4231 fax
www.nps.gov/home
____________________________
National Park Service News Release
FOR IMMEDIATE RELEASE – February 7, 2018
Susan Cook 402-223-3514
2018 Heartland Storytelling Festival
at Homestead National Monument of America
The Heartland Storytelling Festival will be held at Homestead National Monument of America on March 22 and 23, 2018. Professional storytellers will perform each day in a round-robin    set-up. Programs will be held at the Homestead's Education Center at 9:30 a.m., 10:30 a.m., 12:00 p.m., and 1:00 p.m.  New this year is a Storytelling Performance open to everyone, which will occur each day at 2:00 p.m.  This fun event is free! Storytellers this year include:
Darrin Crow –Hailing from across the mighty Missouri in Iowa, Darrin's yarns will take you back in time to education in One Room Schools.
Pippa White –Pippa's stories of Ellis Island and immigrants setting the heartland will captivate you and make learning history an unforgettable experience for all ages.
Rosie Cutrer – Visiting from Kansas, Rosie will take you back to the pioneer times and delight all with her collection of everyday tools and toys from yesteryear.
Schools, daycares, homeschool groups, senior centers and the general public are encouraged to attend.  Students can also come on a virtual field trip through Distance Learning.  Register for one storyteller or come for all three! All programs are Free!
"This event is wonderful: Everyone is invited to come and learn about our National History through the art of storytelling", stated Superintendent, Mark Engler.
To reserve space for your classroom, call Homestead National Monument of America at
402-223-3514 or email e-mail us.  This program is possible through the support of the Nebraska Arts Council and the Nebraska Cultural Endowment.
Remember, Homestead National Monument of America has an exciting schedule of events planned for 2018.  Keep up with the latest information by following us on Twitter (HomesteadNM), Facebook (HomesteadNM), and Instagram (HomesteadNPS).
Homestead National Monument of America is a unit of the National Park Service located four miles west of Beatrice, Nebraska and 45 miles south of Lincoln. Hours of operation are 8:30 a.m. to 5 p.m.  Monday through Friday and 9 a.m. to 5 p.m. Saturday and Sunday.  Admission is free of charge.  For additional information, please call 402-223-3514 or visit http://www.nps.gov/home/.
EXPERIENCE YOUR AMERICA TM
The National Park Service cares for special places saved by the American people so that all may experience our heritage.