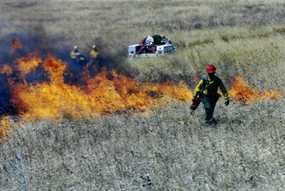 Prior to Euro-American settlement, fires swept through the tallgrass prairie every 5-10 years. In the absence of fire, prairie plants lose their competitive advantage over woody and exotic plants. The woody and exotic species then take over, shading out the native species. In 1970, park staff began using prescribed fires to manage the prairie.
The prairie is divided into six management units and burned on a seven-year cycle. Every year, two units are randomly chosen for treatment, with the stipulation that once a unit has been burned twice in the seven-year period, it is removed from consideration for the duration of that period. Seasonality of fires is also randomized. The seventh year is a "rest year." The goals of the fire management program are control of exotic species such as smooth brome, management of shrub species to no more than 15% of the prairie by area, and removal of plant debris that, if left in place, create the potential for a large, devastating fire.
Currently with the aide and assistance of the Great Lakes Northern Forest CESU and Michigan Technological University of Houghton, Michigan; Homestead National Monument of America is conducting a hydrology project for Cub Creek and the woodlands surrounding Cub Creek. The primary focus of the project is to determine where the trees in the woodlands acquire their water. This will be completed by comparing the different oxygen isotopes found in the rainwater, ground water, soil moisture, and creek water to what is in the cambium of bur oak trees. Three sites in the woodland will be monitored. The ultimate goal is to determine the feasibility of re-introducing fire into the woodlands. Before Americans of European descent settled on the Great Plains fire would have periodically occurred in the woodlands area that is now part of Homestead National Monument of America and the woodlands would have had a much different composition and look than they do today. Management of Homestead NM would, if possible, like to return the woodlands to their pre-settlement composition and look. Therefore this project is very important in determining the feasibility of the re-introduction of fire in the woodlands.
For more information about Cooperative Ecosystem Studies Units click here and here.

To view the Heartland Inventory and Monitoring Network's interactive map of Homestead's burn history, click here. It is a large file, so it may take time to load. Also, make sure to open it in Acrobat Reader in order to use the interactive layer feature on the map. You will see a column of three icons on the far left side of the window; click the bottom one, an image of two floating layers, to turn on the layer feature so you can manipulate the different layers of data on the map. Now click on "HOME Burn History" and click the folder and/or eyeball icons to view the different areas where burns were used at Homestead in different years.