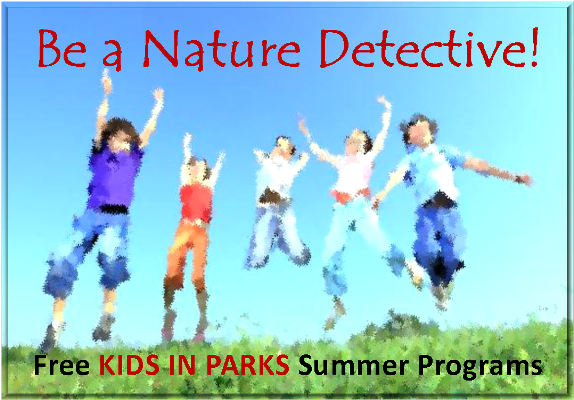 Calling all kids! Have fun exploring nature with public Kids in Parks programs Saturdays from 10 a.m. to 12 p.m. at the Homestead Education Center. These Nature Detectives programs are FREE and all ages are welcome! Program length is subject to change due to weather. Sunblock and closed toed shoes are encouraged. No registration required. Schedule a Kids in Parks program for your special group! Just call 402-223-3514.

Summer 2014 Public Kids in Parks Program Schedule:
July 5: Beginning Birding - Observe along the trails our feathered friends of all shapes, size and behaviors. Learn to use these clues for basic bird identification.
July 12: Prairie Plant Prowl - Prowl the tallgrass prairie with the Park Rangers. Look very closely at the plant life and learn tips along the way about basic plant identification.
July 19: The Great Bug Hunt - Calling all bug hunters! Your help is needed to discover insects found in the tallgrass prairie.
July 26: X-stream Surveillance - Ever wonder what's living in the mud in Cub Creek? Park Rangers will bring the creek to you so you can find out! Learn how these creek critters can indicate the health of creeks and ponds.
August 2: Nature Discovery Tour - Explore with the Park Rangers and investigate clues along the trails at Homestead to figure out what wildlife lives there.