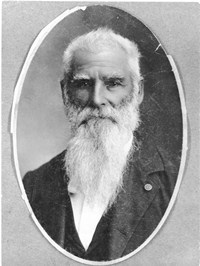 Daniel Freeman
Farmer, Soldier, Doctor, Coroner, Sheriff,
Homesteader (First Homestead in the United States of America)
1826-1908
Beatrice, Nebraska
One of the first people to file a claim under the Homestead Act of 1862 was Daniel Freeman. The site of his claim is now the site of Homestead National Monument of America. This site commemorates the lives and accomplishments of all pioneers and the changes brought about by the Homestead Act. Legend has it that Daniel Freeman filed his claim 10 minutes after midnight at the Land Office in Brownville, NE on January 1, 1863, the first day the Homestead Act went into effect.