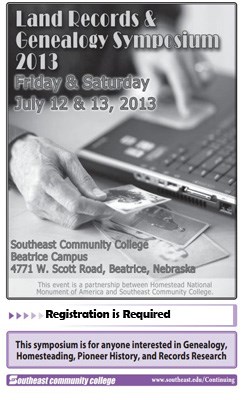 Are you interested in researching your family history, land records, or learning about the latest technologies being applied by genealogists? If so then you should plan to be at the 2013 Land Records and Genealogy Symposium. The event will take place Friday and Saturday, July 12&13, 2013, and is co-sponsored by Southeast Community College of Beatrice and Homestead National Monument of America. It will be held at the Truman Center building on Southeast Community College's Beatrice campus.
The conference will feature renowned speakers from all over the country, excellent food and entertainment, vendors, and onsite help for all of your genealogy needs. Southeast Community College and Homestead National Monument of America have partnered once again to bring in professional genealogists to present a variety of topics and techniques that will enhance your genealogical research.
Speakers include:
Gail Blankenau - Gail is an experienced genealogist and photo historian who engages audiences with high-energy presentations that are as information rich as they are entertaining. Gail will be examining Women Homesteaders in her first presentation, and then will present her popular "Dating and Identifying Your 19thCentury Photos" program. This presentation is essential to all those looking searching for clues in old photographs.
Deborah Abbot - Deborah is the past president of the African American Genealogical Society and specializes in Land Records and African American research. Her presentation titled "Using Land Records in Slave Research" will introduce the audience to the methodology of using land records as a key resource in African American research.
David Williams - David is the Senior Product Manager for Fold3.com. He will be giving two presentations centered around the information contained on Fold3.com. His presentations will focus on what you can find on Fold3.com and how military records and homestead records can be used together.
David Rencher - David is the Chief Genealogical Officer for Family Search and has been a professional genealogist since 1977. Land Records constitute the largest volume of records of our ancestors and often leave the only clues to marriages, deaths and relationships. FamilySearch has been gathering land records since it began microfilming in 1938 and continues to digitize large quantities of these records for use by historians and genealogists alike. Learn what is available online for free at FamilySearch.
Laura Prescott - Laura specializes in online resources, manuscripts, and military records. She is the past president of the Association of Professional Genealogists and a consultant at Fold3.com. Laura will offer two presentations highlighting the use of Ancestry.com. She will offer tips and strategies on finding land records with a special emphasis on Cash Sales, Military Script, and Preemption claims.
Roberta "Bobbi" King - Bobbi is a professional genealogist who specializes in homestead research. She is the descendant of three Nebraska homesteaders and will be presenting a special program titled, "Homesteading, A Historical Perspective". Bobbi will be examining the social events and political movements that were occurring concurrently with the homesteading movement in the years prior to the passage of the Homestead Act.
Please contact Blake Bell, Homestead National Monument of America's Historian, with any programming questions at 402-223-1715 or at e-mail us. Those wanting to register for the event should contact Southeast Community College Continuing Education Center, at 402-437-2700.