Traveling Trunk
Homestead Act K-3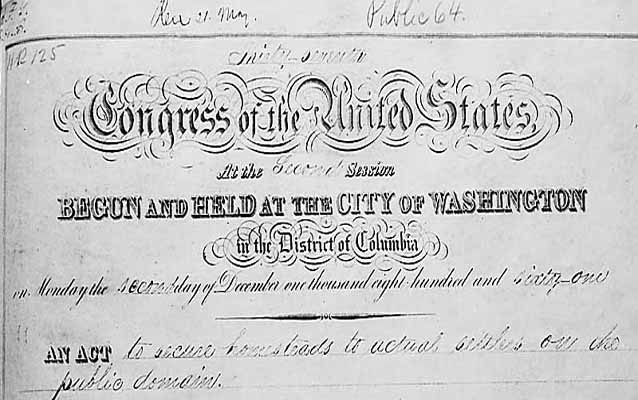 The trunk includes curriculum materials, books, and photos that can be integrated into history, social studies, art, reading, and language arts curriculum. Additionally, the curriculum materials include student station sheets, so students can rotate stations without the teacher having to repeat instructions.
Download the curriculum unit here.
Grace, a Buddy Bison, travels with the President Lincoln and the Homestead Act K-3 traveling trunk. She records all of her adventures. Be sure if you request this trunk that you email photos and stories of her adventures with your class. Your class can then track her travels all year long.
Borrowing Instructions
Homestead's traveling trunks are designed so that teachers and students anywhere can receive hands-on educational materials relating to the Homestead Act and westward expansion. The trunks are easily shipped in a large flat rate box from the United States Postal Service. The only costs associated with "borrowing" a trunk is the return postage.

Traveling Trunk Policies
Traveling trunks can be reserved by completing the form found here.
Traveling trunks are lent on a first come-first served basis.
Traveling trunks are available for 1 week, which does not include the shipping back and forth. A longer time frame may be requested, but is subject to demand and availability.
Traveling trunks are shipped in large, flat-rate priority mail boxes from the United States Postal Service. The current rate is approximately $17 to ship.
Homestead National Monument of America is committed to bringing parks to classrooms and therefore will pay the shipping to your school.

For questions on reservations please call (402) 223-3514 and ask for
Park Ranger Tina Miller or e-mail her.
Details
Subject:

Civil War, Education, Family Life, History, Immigration, Law, Leadership, Social Studies, Westward Expansion

National/State Standards:

CCSS.ELA-Literacy.RL.(K-3) 1 through 10
CCSS.ELA-Literacy.RI.(K-3) 1 through 10
CCSS.ELA-Literacy.RF.(K-3) 1 through 4

type:

Traveling Trunk
Last updated: April 10, 2015