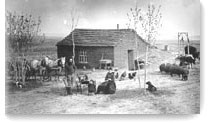 The Center for Great Plains Studies' 33rd Interdisciplinary Symposium will be held May 17-19, 2007 at the Nebraska Union on the campus of the University of Nebraska-Lincoln, 14th and R Streets, Lincoln, Nebraska. This symposium will examine homesteading and its legacy from all angles, review recent and forthcoming scholarship, probe conflicting interpretations, and encourage development of personal perspective on the historical significance of homesteading.
Topics might include, but are not limited to: native American views of homesteading; ecological impacts; cultural, social, and technological changes; agricultural and industrial legacies; immigration and migration patterns; modern "homesteading" programs; land speculation and fraud; the Canadian homesteading experience; and more.
Special sessions will be held for K-12 educators.