Date & Time

04/21/2018 10:00 AM to 2:00 PM

Fee Information

Free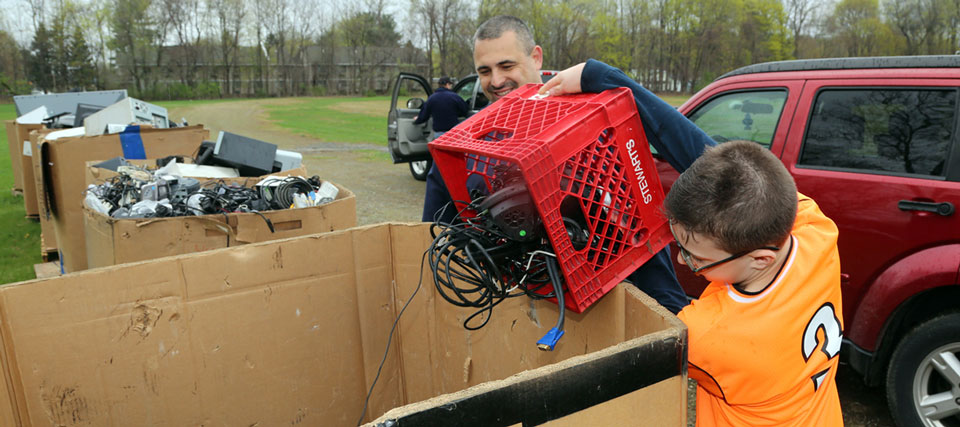 Recycling - Bring Your Stuff!


Electronic Waste:
IMPORTANT -- What
NOT
to bring:
• No Computer Monitors of ANY KIND**
• No Televisions of ANY KIND**
• Lamps/bulbs
• Small appliances
• Non-rechargeable batteries (bring ONLY lead-acid and Ni-Cad batteries)
**

NOTE:  Dutchess County residents can dispose of these at upcoming hazardous waste collection days: June 16 and October 27. More info at www.dutchessny.gov/solidwaste
• Computers, Printers
• All Computer Accessories (Mice, Keyboards, Webcams, Speakers, Microphones)
• Ink/Toner Cartridges
• Tapes, CDs, DVDs
• Fax Machines
• Answering Machines
• Telephones
• GPS Units
• Cell Phones & Chargers
• PDAs, Tablets, MP3 Players
• Scanners
• Radios, CD/DVD/VHS Players etc.
• Storage Devices (External Hard Drives, Solid State Drives, SD Cards, Memory Cards, Card Readers, etc.)
• Audio Equipment (Speakers, Microphones, etc.)
• Video Equipment (Cameras, Video Cameras, Web Cams, Recording Devices
• Typewriters
• Batteries: Lead-acid and Ni-Cad Batteries ONLY (ordinary batteries go in your trash)
Pharmaceuticals:  Drop off unused/unwanted medications for safe disposal, keeping these harmful substances out of the environment, an out of the hands of those who might abuse them. Medicines deposited should be in sealed containers/plastic bags.  Any unused prescription medications, medicated ointments, over the counter medicines, and inhalers may be disposed of.  Hazardous materials and needles are not accepted.  No ID required.
Hearing Aids and Eyeglasses:

  Donate eyeglasses, sunglasses and hearing aids for re-use.  All types of glasses for children and adults, including very strong and very weak prescriptions. Reading glasses and non-prescription sunglasses also. Any type of hearing aid is accepted.  All donations will be given to the 

Lions Club
ReCycle a Bicycle & Bike Repair:
Donate your old bicycle and the Poughkeepsie reCycle project (sPOKe) will either use it for parts, or fix and put it back into service in the community.
Or bring your old bicycle that needs work, and get some hands-on learning for basic bicycle repair (fixing flats, tightening cables, truing wheels, etc.).
Activities - Bring the Family!
National
Park Activities for Young People:
Art of nature

- Nature is a work of art. We will take a one mile walk on Farm Lane, looking at the elements of art -- including line, shape, color, value, texture, and space. Then we'll take what we have learned and make a drawing in the land Franklin D. Roosevelt loved and called home. Takes about 90 minutes.

An Earth Day scavenger hunt with prizes - Stop by anytime!
Check out our Junior Ranger program, and find out about other activities for young folks.
Learn Composting

:

 Stop by and learn how to decrease waste and improve your garden soil!
Cornell Cooperative Extension Dutchess County will host a display on Home Composting.  Master Gardeners will help you understand how to successfully separate, sort and dispose of household food and garden waste, and will provide advice on home composting techniques and options.
What Can I Recycle?

  Stop by and learn what goes in your blue bin and how your bottles, cans and paper get a fresh start by being recycled into new products.  Also: Pick up a free copy of the Conservationist for Kids magazine!  
Practice crafts with re-used & recycled materials. Hosted by the NYS Department of Environmental Conservation and Dutchess County Solid Waste Department.

Make a bird house from re-used materials, with the Hyde Park Community Garden crew.  (Also: learn about their Young People's Garden, and how to adopt a plot.)
Gardening For Everyone:
The Vanderbilt Garden Association, The Beatrix Farrand Garden Association, The Hyde Park Community Garden, The Hyde Park Visual Environment Committee and the Hyde Park Garden Habitat 
are all teaming up to help you grow on Earth Day.  Get information on these local gardens, learn about garden ecology, get answers to your gardening questions, learn about volunteering, and get free seeds! 
Spring Seed Starting:
Kids and adults can start plants to take home that will benefit the environment, teach recycling and beautify the Earth! 
Learn how to make a biodegradable planting pot from newspaper

, with the Hyde Park Visual Environment committee.  

"Nature Recycles"

  See how plants rely on recycling to grow and reproduce. Plant Sunflower seeds with the Beatrix Farrand and Vanderbilt Garden Associations and take your plants home to watch this recycling take place over the growing season. 

Learn which flowers are most helpful to our important pollinators and start seeds

of some of these species to take home to grow for their benefit and yours with the Hyde Park Community Garden. 
Preventing Tick-borne Diseases on Pets and People:

Practice tick safety with the "Tick-Check Harry" puppy and take home a children's activity workbook. Learn about prevention strategies for you and your family, and pick up a free tick removal kit. Sponsored by Dutchess County Department of Behavioral & Community Health.
Discover the Hudson River:

Assemble a 20-foot puzzle map of the River, and learn how to read and explore it.  Get to meet some of our watery neighbors who live there. Staff from Sloop Clearwater will help young people and families learn about the living Hudson River, and things we can do to help protect our waterways from things like microplastics and invasive species.
Sign up for a free or reduced-cost home energy audit:
Energize Hyde Park offers Hyde Park homeowners a pathway toward a more energy efficient home. Take advantage of a NY State Program that can help you lower your energy bills, reduce drafts and lower your carbon footprint.



Get Involved:

Stop by to find out how you can get involved in gardening, Hyde Park Trails and many other activities in our national parks, as well as our many partner organizations.
FREE RAFFLE
...to win one of THREE compost bins or ONE rain barrel

:

Drawings will be held throughout the day.  Sponsored by the Dutchess County Division of Solid Waste Management, National Park Service and the Roosevelt-Vanderbilt Historical Association.
Get Involved:

Stop by to find out how you can get involved in gardening, Hyde Park Trails and many other activities in our national parks, as well as our many partner organizations.
Drop-Off at the Drive-In is sponsored by the Roosevelt-Vanderbilt National Historic Sites
in partnership with
NYS Department of Environmental Conservation, Dutchess County Government,
Cornell Cooperative Extension, and many community partners.
Thank you to everyone!