Yoga in the Park
"The body is your temple. Keep it pure and clean for the soul to reside in." B.K.S Iyengar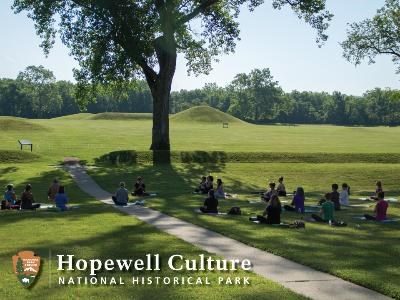 The 2019 season has ended. Thanks to all who participated in making it another successful Yoga season! Check back in the spring for 2020 dates.

Join us at the Mound City Group Visitor Center on Saturdays in the summer for FREE yoga with a certified yoga therapist. All fitness levels welcome! Please be sure to bring your own yoga mat, blanket or towel and enjoy a beautiful morning in the park as you stretch the body, mind and spirit. This is a free program, open to the public.

If weather does not permit an outdoor session, the class will gather inside in the visitor center auditorium. Classes last approximately 60 minutes. There is no need to call in to pre-register for yoga this year. For additional information about the yoga classes, please call the park at 740-774-1126.
Summer 2019
Yoga Class Schedule:
** All classes begin promptly at 9:00 AM **
June: 1st, 8th, 15th, 22nd & 29th

July: 6th, 13th, 20th & 27th

August: 3rd, 10th, 17th, 24th, 31st

September: 7th, 14th, 21st, 28th
Important things to remember:
All classes start promptly at 9:00 AM at the Mound City Group visitor center
Please be sure to bring a reusable water bottle - there is a refill water station inside of the visitor center
Be sure to bring your own Yoga mat or blanket - the park, nor the instructor will be able to provide one for you
Classes usually last around one hour
ALL fitness levels are welcome and encouraged to attend!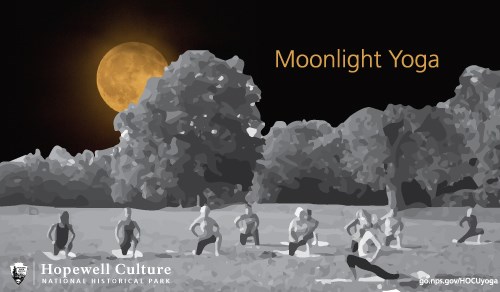 Moonlight Yoga
Moonlight Yoga has concluded for 2019. Thank you to all who participated and made this special Yoga event a resounding success! We look forward to seeing familiar faces and new faces next year for more Moonlight Yoga! Regular Yoga classes are ongoing through September, so please join us for an upcoming date if it fits your schedule.

We invite you to slow down and soak up the moon's soothing energy this summer. On those days where you're feeling depleted, overstimulated, or overheated, you can benefit from a slower yoga practice that helps quiet your mind and body and balances your energy before you get to the point of exhaustion.

Led by a teacher from Explorer Yoga, these soothing, all levels Moonlight Flow classes will include meditation/centering at the beginning and end of the practice. BEGINNERS ARE WELCOME and various options for poses will be demonstrated. Wear clothes you can move in and bring a yoga mat or towel to practice on.

Things to remember:
Bring your own water
Bring your own mat or blanket
No children under the age of 12, please.
Class is FREE
Moonlight Yoga class dates and times are as follows:
Sunday, June 16th, 2019
Monday, July 15th, 2019
Wednesday, August 14th, 2019
Last updated: November 26, 2019