2018 Monarch Tagging Program
Date & Time

09/15/2018 10:00 AM to 2:00 PM

Fee Information

No Fees

Contact Us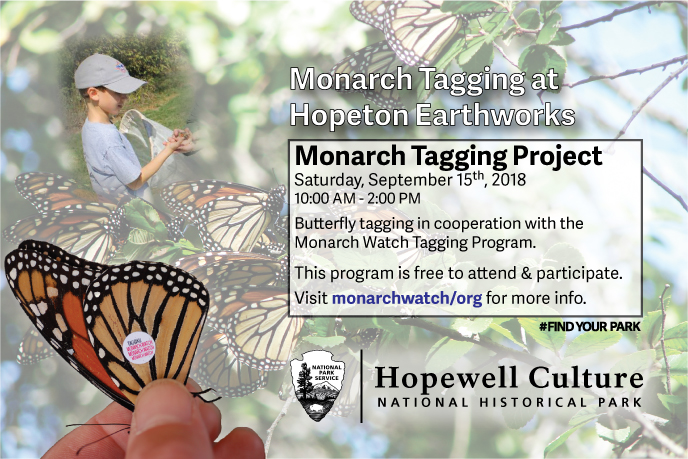 Butterfly Tagging

During this program, participants will help capture and release monarch butterflies and assist in the tagging and collecting of monitoring information. The information collected will be used to help determine migration flight patterns and timing, survival rates, weather influences on migration, and the overall population size of monarch butterflies. The program is being presented in conjunction with the University of Kansas Monarch Watch. Naturalists and qualified volunteers will also be on hand to assist with the tagging and recording process. The day's activities will conclude with the exciting release of the butterflies.

Participants are recommended to wear long pants and closed-toed shoes and encouraged to bring plenty of water. Supplies for the program are provided by Hopewell Culture National Historical Park.

This event is free and does not require reservations. Meet at Hopeton Earthworks parking lot on Hopetown Road, just off of State Route 159/Business U.S.23. Driving maps are available online and at the Mound City Group visitor center (16062 State Rt. 104), which opens daily at 8:30 am.  Hopeton Earthworks is a 10 minute drive from the park's visitor center.
---
Location:

Hopeton Earthworks



Time:

10:00 AM to 2:00 PM



Fee Information:

No Fees



Contact Name:

Andrew Molloy



Contact Email:




Contact Phone Number:

7407741126