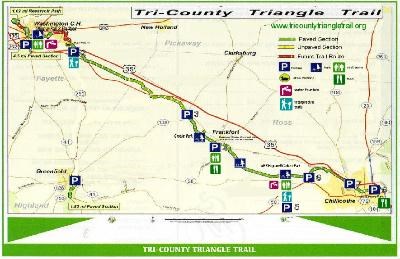 Bicycling at the Park
Please keep in mind that most trails at the three open sites of the park are for foot traffic only. No motor vehicle traffic or bicycle traffic is allowed on the trails at Mound City Group, Hopewell Mound Group (except for Multi-Use trail) and Seip Earthworks at any time. For trail maps of each of the three park sites, please visit the brochures section of this website.
Hopewell Mound Group Multi-Use Trail
The Tri-County Triangle Trail is a multi-use trail that stretches through Hopewell Mound Group on the south side of Sulpher Lick Road. This is the only trail at Hopewell Mound Group on which bicycle travel is permitted. All other trails at Hopewell Mound Group are for foot traffic only. The Tri-County Triangle trail is often frequented by bicyclists, runners and walkers on a daily basis. The trail connects the towns of Chillicothe, Frankfort and Washington Court House via a 28+ mile paved section. Motorized travel is not allowed on the Tri-County Triangle Trail at any time. Visit the Tri-County Triangle Trail website for more information.