Park Newspaper
Newsletters
Two newsletters are available for your reading enjoyment: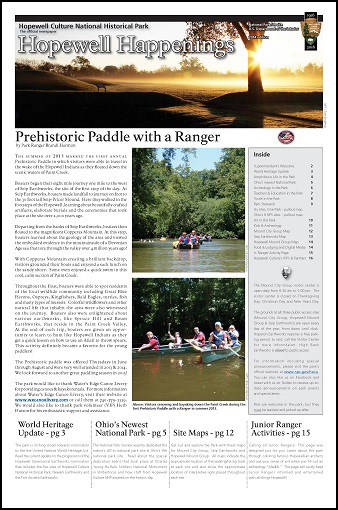 Hopewell Happenings
This newsletter is the official park newsletter detailing the resources, people, and projects of the park.
For 2014, the park is thrilled to offer the
newest edition
of Hopewell Happenings in a new layout and design! The new design and layout is chock-full of quality articles and images, so please be patient as you download the PDF file (download times will vary based on your internet connection speed). Due to the size of a high-quality rendering, this digital version has been saved in a lower resolution (15 MB) to allow for quicker downloading of the file. In print format, the new newsletter is a traditional newspaper size, about 23" x 17.5" with a fold down the vertical center.
In the middle pages of the paper, you will find two graphically illustrated maps; one showing the 6 sites of Hopewell Culture National Historical Park in Ross County, Ohio and the other showing the 9 National Park Service sites throughout the state of Ohio. This is intended to be a pull out section for visitors to use as a guide when visiting the park in Chillicothe, and to show the geographical locations all of the Ohio National Park Service sites.
For past editions of the newsletter, please visit the
archives section
.
---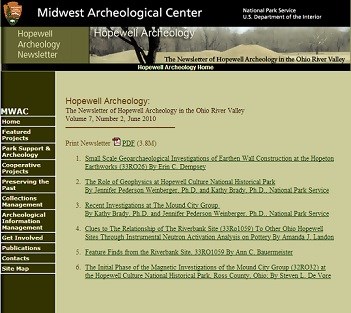 Hopewell Archeology Newsletter
This newsletter is published by the
Midwest Archeological Center
and contains articles about current archeological research, both on and off park lands. This newsletter is only available in
digital format
from the Midwest Archeological Center.
Last updated: April 10, 2015