Hopewell Artifact Map Locator
THIS PAGE IS CURRENTLY BEING TESTED AND IS UNDER DEVELOPMENT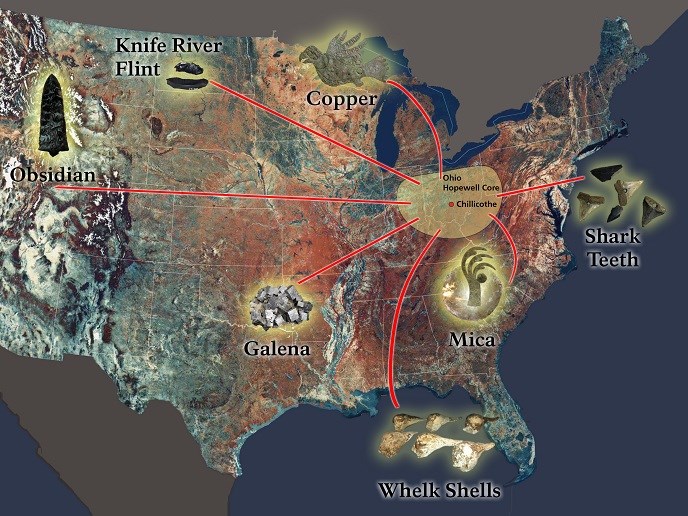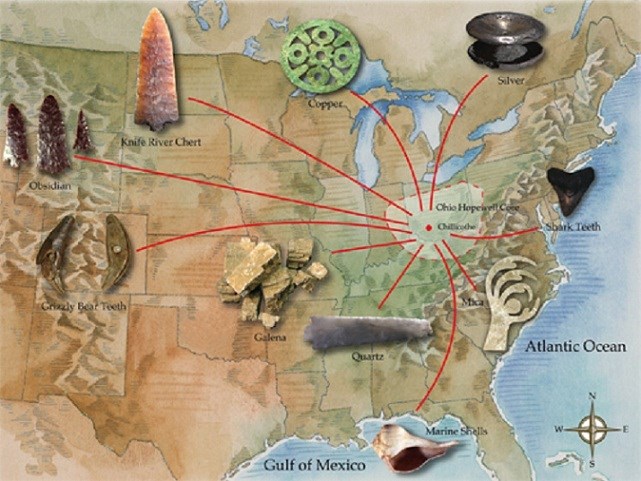 Continental Travelers and Traders
The people of the Hopewell Culture are renowned for the enormous geometric earthworks and mounds that they created some 2,000 years ago. In addition to having a complex and far-reaching trade network, exotic materials from as far away as the Rocky Mountains were brought back to these Hopewellian sites. These exotic and unique objects were then crafted into beautiful pieces of art. Many of these crafted objects were often interred with burials in an ultimate sign of respect and homage.
During excavations at Mound City Group in the early and mid-20th century, Archaeologists discovered more than 100 cremated burials adorned with numerous amounts of artistically crafted exotic materials, all of which were foreign to the Ohio valley. Because of the limited number of burials and the amount of exquisitely crafted artifacts discovered with them at Mound City Group, it is very possible that these people may have been respected and revered figures in Hopewell society during their time. This interactive map will provide you with additional information about some of the most impressive artifacts uncovered here.
Click on an object on the map to hear and read more about each artifact discovered at Mound City Group.
Last updated: April 10, 2015