Field Trips
School Field Trips to Mound City Group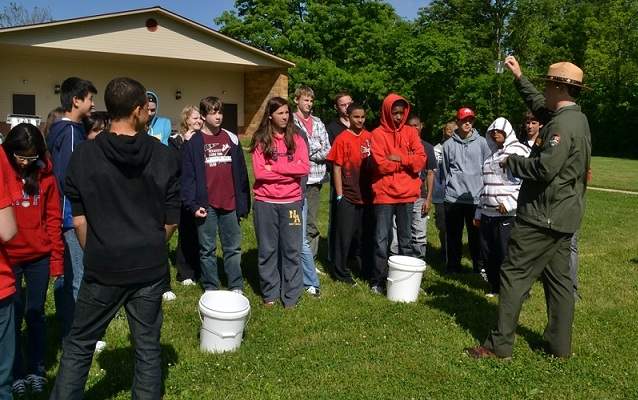 Description
Typical field trips are about 2 hours in length and they include all or some of the following programs which are led by an Interpretive Ranger:
·Orientation film - Mysteries of the Ancient Architects: Most students benefit from viewing the park's 19-minute film. The film gives viewers a snapshot of who these people were and explores the monumental earthworks that they constructed during the middle woodland period. Film is suitable for third grade and up.
·Mound Tour - (30-45 minutes): A guided tour of the Mound City Group explains how the people of the Hopewell culture lived their lives and discusses the importance of cultural and natural resource stewardship. It also gives students a chance to stand next to multiple earthen, tangible objects which aids tremendously in learning about the culture.
·Museum Tour - (20-30 minutes): A guided tour of the museum talks about the 2,000 year old artifacts excavated from the Mound City Group and leads students through an interactive computer program about the Hopewell culture.
·Atlatl Demonstration - (20-30 minutes): Students learn about the hunting and gathering of the Hopewellian people and get an opportunity to learn how to throw spears using the ancient spear thrower, the atlatl.  Please Note - This activity is only available for grades 3 and above, no exceptions.
·Gift Shop - (20-30 minutes): Most classes take a brief period of time on their way out to explore the gift shop and purchase memorbilia to remember their visit. This is an optional element for your class, so please let your Ranger know if your class would like to spend time in the gift shop before you depart. When calling regarding gift shop information, please ask to speak with the bookstore manager, Bill Huebner.
Details
Subject:

American Indian History and Culture, Anthropology, Archaeology, Geography

type:

Field Trips