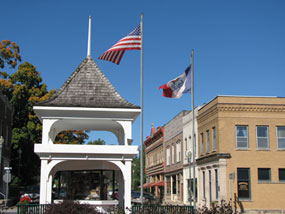 The City of West Branch, Iowa is the home of Herbert Hoover National Historic Site. To learn more about visiting West Branch contact Main Street West Branch, a community organization that promotes West Branch's businesses, culture, history, architecture, and commitment to progress.
Historic Downtown
The West Branch Commercial Historic District is just outside the historic site along Downey and Main streets. It is a national historic district which preserves fifteen downtown buildings built from 1875 through 1929.
West Branch Municipal Cemetery
Herbert Hoover's father and mother, Jesse and Hulda, are buried among relatives at the West Branch Municipal Cemetery nearby. Learn more »
Hoover Nature Trail
The Hoover Nature Trail follows the railroad that passed through the president's hometown. As a child, Herbert Hoover developed an early interest in geology while collecting interesting rocks along the railroad grade.
Herbert Hoover Highway
Herbert Hoover Highway, a scenic motor trail, connects Iowa City and West Branch with the nearby towns of Springdale, Rochester, Tipton, and Lowden. The highway is exit 249 on Interstate 80. Download a guide (PDF file) »