Historic Homes on Poplar Street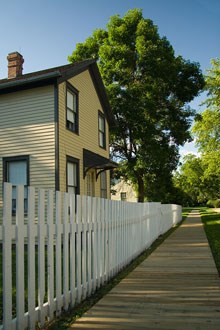 West Branch was barely a settlement in 1852 when Baltimore native Aaron Baker came here to claim the free land he'd received from the United States government for his service in the Mexican War. He promptly sold all 160 acres of it for about a dollar apiece.
By the time John Wetherell purchased five acres in 1869, the price of land had risen considerably. The new real estate developer set about subdividing his property into town lots, and also decided to name a nearby street after himself.
As you look around, you might be surprised to learn that Herbert Hoover didn't live in one of these larger homes. By comparison, his home measured only 14 by 20 feet in size. You will get the chance to go inside the cottage where America's 31st President was born; however, the homes here on Poplar Street are not open to the public and are used as offices or private residences.
Audio Tour Stop 115: Historic Homes on Poplar Street (1:02)

John Wetherell, the new real estate developer set about subdividing his property into town lots, and also decided to name a nearby street after himself.

Duration:

1 minute, 4 seconds

Credit / Author:

NPS

Date created:

2010-06-22
Last updated: April 10, 2015