VOG - Volcanic Smog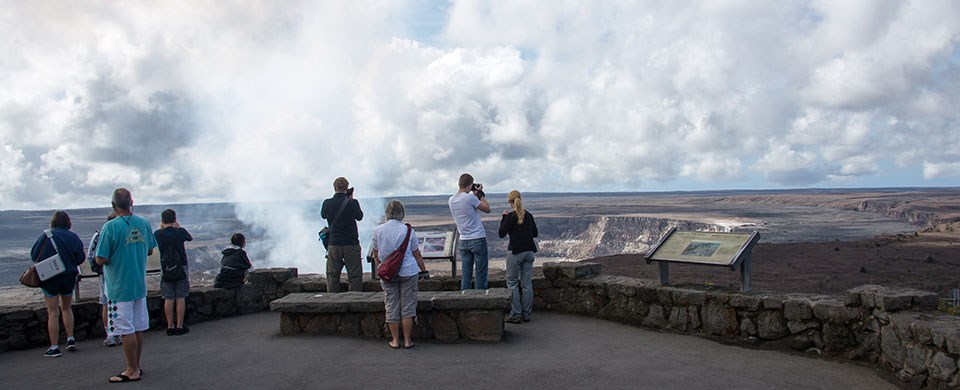 NEW VOG INFORMATIONAL PRODUCTS AND ONLINE DASHBOARD LAUNCHED:
The new
interagency vog partnership*
is pleased to announce:
The Vog Dashboard - new portal containing comprehensive information about vog and its impacts! www.ivhhn.org/vog (external site)

FAQ booklet on vog

Brochure on 'What can I do to protect myself from vog?

Poster on 'What can I do to protect myself from vog?' All of these products are on the dashboard at: http://www.ivhhn.org/vog/vog-fact-sheets (external site)

PDF document containing all the web-links found on the dashboard
*Hawaii Department of Health, USGS Hawaiian Volcano Observatory, National Park Service, Hawai'i County Civil Defense, CSAV (University of Hawai'i, Hilo) and the International Volcanic Health Hazard Network
Volcanic Fumes
Fumes (volcanic gases) are hazardous to everyone's health. Visitors with heart or breathing problems and infants, young children, and pregnant women are especially at risk and should avoid being in areas where fumes persist.
The eruptive vents in Halema'uma'u Crater, Sulphur Banks, and Puʻu 'Ōʻō vent generate high levels of gases that may affect visitors - even those visitors who are healthy.
Concentrations of these gases is often dependent on wind direction. Hawaiʻi's normal tradewind pattern generally blows gases, emitted from the two main vents on Kīlauea, away from most visitor areas. However, even on a tradewind day, fumes from Puʻu ʻŌʻō and Halemaʻumaʻu may cross a roadway or linger in other areas of the park. In this event, close your car windows and run the air conditioning on recycled air and leave the area.
There are times when the park will close due to high levels of volcanic gases. Be flexible - Closures are initiated for visitor and employee safety. Air Quality Monitor
Last updated: August 24, 2016