The Kahuku Unit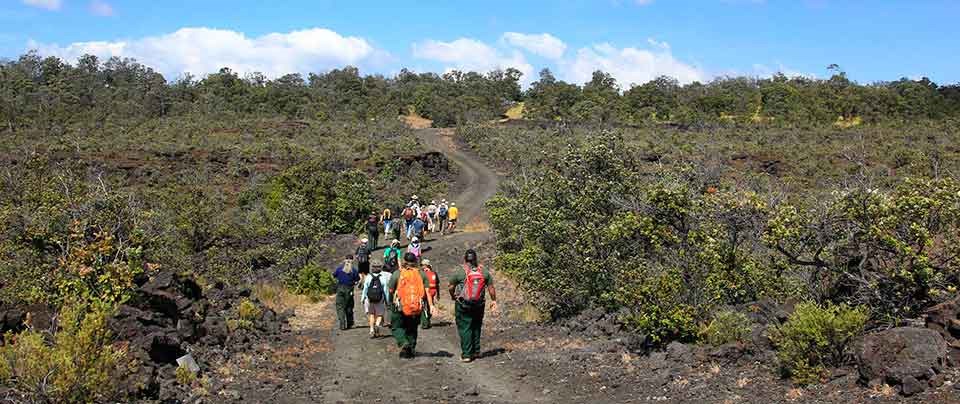 ---
Kahuku
is a place of dynamic volcanism, rich Hawaiian traditions and a fascinating history of ranching. It is a site of struggle and restoration for many unique plant and animal species of Ka'ū. Share in the wonders of this 116,000 acre unit of Hawai'i Volcanoes National Park. Kahuku is located on Hwy 11 in Ka'ū near mile marker 70.5.
Google Map
New hours effective August 15, 2018:
The Kahuku Unit is open Wednesday to Sunday from 9 a.m. to 4 p.m. and is closed on Mondays and Tuesdays.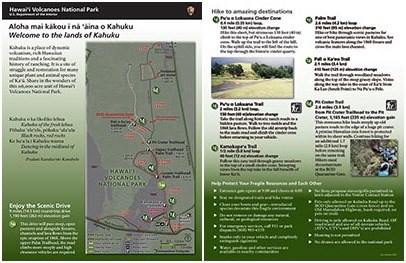 Kahuku Site Bulletin - opens in new window ( pdf - 1.38MB )
Kahuku Orientation Talk
Wednesdays, Thursdays, and Fridays - 10:00.
20 to 30 minutes talks will include general overview of the park and volcanic activity update. Topics and subject matter will vary depending on interests and will highlight the natural, cultural, and historic attributes of Kahuku.
Coffee Talk at Kahuku
Periodic talks from experts on the last Friday of the month. Consult calendar for details on each event.
Coffee Talk at Kahuku is an opportunity to get to know your Park and your neighbors, and join an informal conversation on a wide variety of topics.
Kahuku Guided Hikes
Sundays at 9:30 a.m.- Select hikes that focus on history, culture and natural resources of Kahuku.

Attendees should be prepared for sun, rain, hot & cold conditions. Wear sturdy footwear and bring water.
---
Update - The Kahuku Unit's Forested Pit Crater and sections of the Glover Trail are now open to foot traffic only: Kahuku Road in the upper paddocks remain closed to vehicle traffic at the cross fence gate to help prevent the spread of Rapid 'Ōhi'a Death (ROD) to upper Kahuku. Hiking to the Forested Pit Crater and open sections of Glover Trail is only allowed via the Pit Crater Trail or Pali O Ka' Eo Trail. Hikers must stay on all designated trails as well as spray and brush their footwear at the Rapid 'Ōhi'a Death (ROD) Decontamination Station on the Pit Crater Trail before proceeding to the Forested Pit Carter. Make sure to close all gates at the ROD Decontamination Station to prevent the spread of invasive ungulates into the upper section of the park. Plan on at least a 2.5 to 3 hour round trip to the Forested Pit Crater and back to the trail heads. Ask onsite rangers for further details and trail descriptions.
Last updated: September 26, 2019