Day Hike - 'Iliahi (Sandalwood) Trail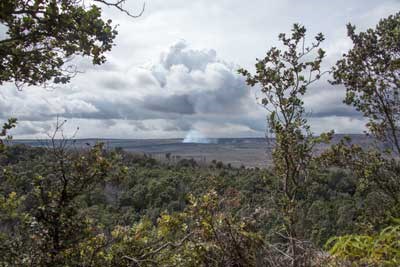 'Iliahi (Sandalwood) Trail
Find `Iliahi (sandalwood) growing among native and non-native trees along this beautiful rainforest trail. Feel the heat from the active steam vents and peer across the steaming floor of Kīlauea Caldera and the erupting Halema`uma`u Crater while enjoying the comforts of this mostly shady loop trail.
Of interest: Walking in a rain forest, listening to the singing native birds, steam vents, pit craters, fault scarps. Views of Kīlauea Caldera, Halema`uma`u Crater and Mauna Loa.
Difficulty: Easy to moderate
Distance & hiking time: 1.5 mile (2.4 km) loop Trail. Approximately 1.15 - 1.30 hours.
Trail begins: Across the street from Kīlauea Visitor Center and to the right of the Volcano House.
Bring: Water, food, hat, sunscreen and rain gear. Be prepared for hot, dry, wet, windy weather conditions.
Stay on the trail and stay away from scalding steam vents, earth cracks and cliffs.
This trail combines the Halema'uma'u, Crater Rim and/or Sulphur Banks trails. Beware of cliffs, cracks and steam vents.
Last updated: September 15, 2017