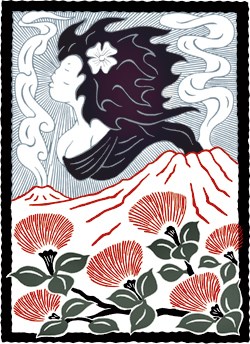 E ho`omau i ka po`ohala, carry on the virtues, arts, and skills of the family at Hawai`i Volcanoes' 29th Annual Cultural Festival.
Set for Saturday, July 11, 2009, from 10:00 am to 3:00 pm, the event will be held on the lawn fronting Kilauea Military Camp on Crater Rim Drive. The festival and park entrance are free.
This year's theme is E Ola ka Wahine o Halema`uma`u, Pele lives. For many Native Hawaiians, Halema`uma`u crater is the sacred home of Pele, deity of volcanoes.
Located at the summit of Kilauea volcano, just two miles from the festival grounds, Halema`uma`u has been in eruption since March 2008. An eruption on the volcano's east rift has been ongoing since January 1983.
At 10:00 am, the echo of the pu (shell trumpet) and a heartfelt pule (Hawaiian prayer) will remind us that the culture of Hawai`i is very much alive.
Throughout the day, the sweet sounds of Hawaiian music fill the air and hula dancers, bedecked in flower lei and colorful mu`umu`u, bring meaning to the songs through the movement of their eyes, hands, and hips.