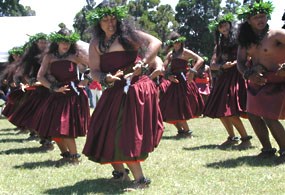 It's a wrap! Now showing in the Kilauea Visitor Center every hour on the hour, 9:00 a.m. to 4:00 p.m., is our new park film, Born of Fire…Born of the Sea.
The 20-minute movie is loaded with colorful footage, natural sounds, and boasts an original music score. It celebrates high lava fountains and fast-moving flows, the arrival of life by wing, wind, and wave, and Hawaiian chant and dance on Kilauea's caldera rim.
Intermixed are all things uniquely Hawaiian. Through the rising steam at Puhimau, Pualani Kanahele welcomes viewers. Submarine lavas explode and implode. A rare `i`iwi proclaims its good fortune in finding a nectar rich lehua blossom…a caterpillar morphs into a Kamehameha butterfly…hawksbill turtle hatchlings race to the sea…and even a happyface spider seems to say, "Have a nice day!"
Surrounding all are the real sounds of rain, wind, and surf. Clouds condense, thunder booms, and surf pounds on black rock and recedes over black sand. Hawaiian crickets tinkle and trill. And wherever sunrays encounter mountain mists, there are rainbows.
The film chronicles the arrival of the Polynesians and their extraordinary adaptations to a new land—honoring their gods and guardian spirits; cultivating taro, banana, and breadfruit; and crafting canoes, stone tools, fishhooks, and barkcloth. Ancient petroglyphs punctuate pahoehoe. And as the sun sets, a Hawaiian man fingers a heartfelt serenade on his nose flute.
The film tells of the invasion of Hawai`i by alien plants and animals, and the resultant destruction of critical native habitat. Mongooses maraud, yellowjackets buzzz, cows chomp and stomp, and feral pigs root, rut, dig and degrade. The last song of the now-extinct `o`o resounds, and one of only a dozen remaining Hawaiian crows growls in the forest.
The film offers that despite the alien onslaught, hope prevails. Within the park, native ecosystems and natural and archeological features are safeguarded and the living culture of the Hawaiian people is perpetuated.
"Born of Fire…Born of the Sea" is our park's 'aloha, e komo mai.' It is our welcome to a world of everlasting wonder, a world that awaits your discovery.