Keanakāko'i Crater
Crater Rim Drive Tour- Stop #8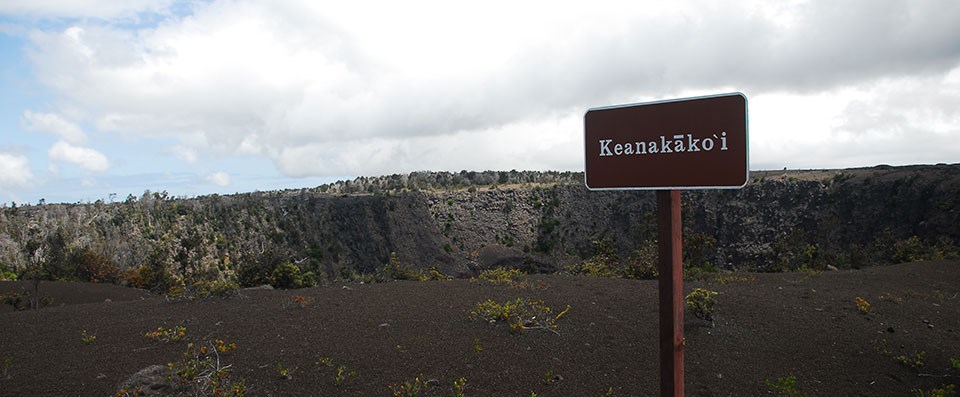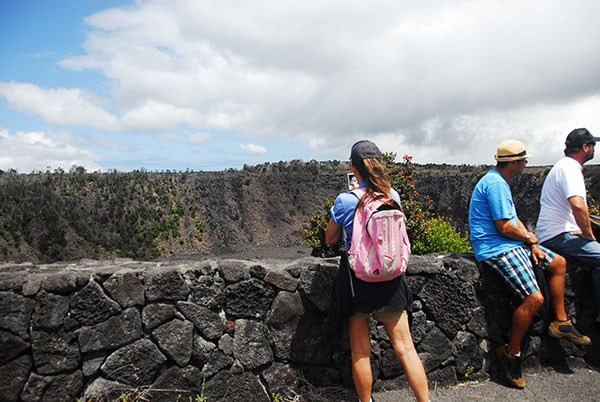 Not a drive but you can hike .8 miles to Keanakāko'i Crater.
Hawai'i Volcanoes National Park has reopened the section of Crater Rim Drive near the Devastation Trail parking lot to Keanakāko'i Crater, and a portion of Crater Rim Trail that leads from Chain of Craters Road to the south side of Keanakāko'i to foot traffic only. This area has been closed since the eruptive vent opened in Halema'uma'u in March 2008.

About .8 of a mile from Devastation Trail parking lot is Keanakāko'i Crater, where you will find evidence of a brief eruption that occurred in September 1982 covering several hundred feet of roadway. This is pahoehoe lava and has a smooth surface. The chunky lava is called a'a. These Hawaiian words are used by geologists world wide to describe these distinct types of lava. This road was rebuilt within 6 weeks of the eruption.
Keanakāko'i, meaning "cave of the adzes" is beside the road on your left. This pit crater lays on the boundary fault that encircles Kīlauea's summit. Until its floor was buried in 1877, Keanakāko'i was the source for superior stone used in tool-making by the Hawaiians. The floor was covered with an additional 20 feet of rock during the 1974 eruption.
Carefully crossing the road, you can walk to the overlook and view the fissures with their still smoking fumaroles from the 1974 eruption.
On a clear day this is an excellent vantage point for viewing Mauna Loa's 13,677 foot summit and Mauna Kea's 13,796 foot summit adorned with some of the world's largest astronomical observatories.
Continue your drive down to the coast with the Chain of Craters Road tour
Last updated: May 28, 2020