Pu'u Loa Petroglyphs
Chain of Craters Road Tour - Stop #7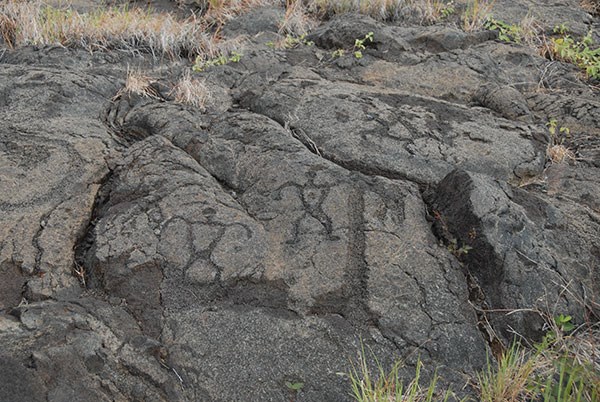 Pu'u = hill
Loa = long
Pu'u Loa = "Long Hill"
Underlying meaning or kaona (hidden meaning) = "Hill of Long Life"
Puʻu Loa is a very sacred and religious place for many of the people of Hawaiʻi and has been used ritually for over 500 years. It is the largest petroglyph field in the State of Hawaiʻi. Puʻu Loa is geologically dated between 1200-1450A.D.
There are more then 23,000 petroglyph images, mostly "pukas" (cupules), about 85% of the total, in which a portion of the umbilical cord of a newborn was placed to ensure long life. Motifs of circles, other geometric designs, as well as cryptic designs of human representations know as anthropomorphisms, canoe sails, and even feathered cape motifs.

A lava walk of 1.5 miles (2.4 km) round trip to the boardwalk will be a great experience for all. Pu'u Loa is a "volcanic pressure dome" that was formed during the eruption of Kāne Nui O Hamo about 550 years ago.
Visit our History & Culture section for more information about the meaning and history of Pu'u Loa Petroglyphs
| | | | |
| --- | --- | --- | --- |
| | | Distance From the Beginning of Chain of Craters Road | Distance From Kīlauea Visitor Center |
| Stop #1 | Lua Manu Crater | 0.5 mi / 0.8 km | 3.8 mi / 6.1 km |
| Stop #2 | Hilina Pali Road | 2.3 mi / 3.7 km | 5.6 mi / 9.0 km |
| Stop #3 | Pauahi Crater | 3.3 mi / 5.3 km | 6.6 mi / 10.6 km |
| Stop #4 | Mauna Ulu | 3.7 mi / 6.0 km | 7.0 mi / 11.3 km |
| Stop #5 | Mau Loa o Mauna Ulu | 6.4 mi / 10.3 km | 9.7 mi / 15.6 km |
| Stop #6 | Kealakomo Overlook | 9.9 mi / 15.9 km | 13.2 mi / 21.2 km |
| Stop #7 | Pu'u Loa Petroglyphs | 16.3 mi / 26.2 km | 19.6 mi / 31.5 km |
| Stop #8 | Hōlei Sea Arch | 18.8 mi / 30.3 km | 22.1 mi / 35.6 km |
Last updated: April 20, 2020