Pauahi Crater
Chain of Craters Road Tour - Stop #3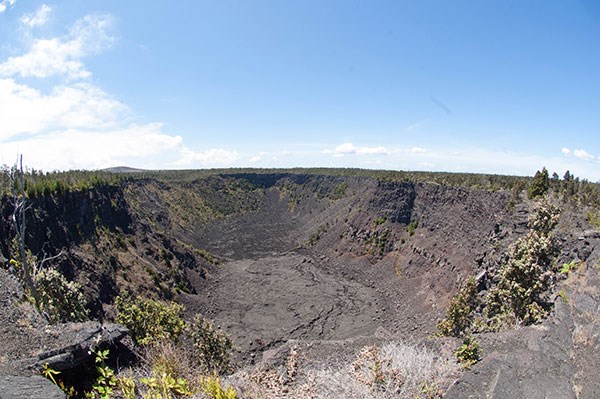 Pau = finished / destroyed
Ahi = fire
Pauahi = "destroyed by fire"
Pauahi Crater is approximately 1800-2000 ft. (548.6-610 meters) long, 300-500 ft. (90-106.7 meters) deep and 300 ft. (90 meters) wide.
In November of 1973 there was an eruption that lasted 31 days, creating the present crater floor. This eruption also opened a fissure east of the crater towards Puʻuhululu. This fissure eruption became a phase of the 1969-1974 Mauna Ulu eruptions. The last eruption of Pauahi occurred in 1979 for 16 days.
There is a short boardwalk for viewing the crater and landscape, a photographic moment. Just left of the boardwalk, you will see a fissure that poured lava in the crater during the 1973 eruption. A rampart (a cinder and ash hill) was also created during that eruption.
Pauahi Crater is culturally significant and religious to many of the Hawaiian people. At times you may view a "Hoʻokupu" (offering wrapped in Tī leaf), which should not be touched or disturbed.
Learn more about these gigantic depressions and how they formed
| | | | |
| --- | --- | --- | --- |
| | | Distance From the Beginning of Chain of Craters Road | Distance From Kīlauea Visitor Center |
| Stop #1 | Lua Manu Crater | 0.5 mi / 0.8 km | 3.8 mi / 6.1 km |
| Stop #2 | Hilina Pali Road | 2.3 mi / 3.7 km | 5.6 mi / 9.0 km |
| Stop #3 | Pauahi Crater | 3.3 mi / 5.3 km | 6.6 mi / 10.6 km |
| Stop #4 | Mauna Ulu | 3.7 mi / 6.0 km | 7.0 mi / 11.3 km |
| Stop #5 | Mau Loa o Mauna Ulu | 6.4 mi / 10.3 km | 9.7 mi / 15.6 km |
| Stop #6 | Kealakomo Overlook | 9.9 mi / 15.9 km | 13.2 mi / 21.2 km |
| Stop #7 | Pu'u Loa Petroglyphs | 16.3 mi / 26.2 km | 19.6 mi / 31.5 km |
| Stop #8 | Hōlei Sea Arch | 18.8 mi / 30.3 km | 22.1 mi / 35.6 km |
Last updated: April 21, 2020