Mauna Ulu
Chain of Craters Road Tour - Stop #4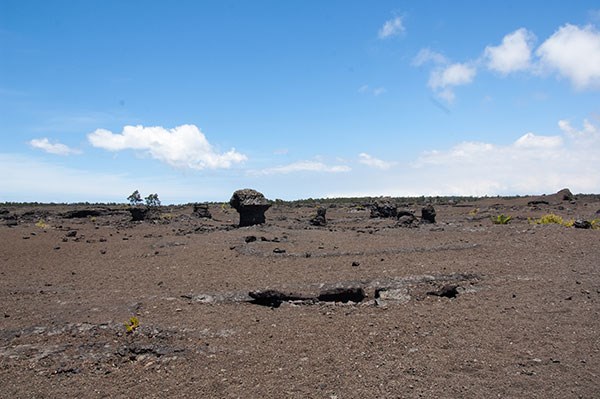 Mauna = mountain
Ulu = growing
Mauna Ulu = "the growing mountain"
Mauna Ulu is located on the east rift zone of Kīlauea. Mauna Ulu is approximately 400 ft. (121 meters) high from its pre-eruption base. It erupted in several phases from May 24, 1969 to July 22 of 1974.
Mauna Ulu recorded high fountaining of 1770 ft. (539.5 meters);only second to Kīlauea Ikiʻs record making 1900 ft. (579.1 meters) fountaining.
From 1969 to 1974 the Mauna Ulu lava flows covered 17 square miles (44 sq. km), traveled 7 miles (12 km) to the coast and covered several areas with 25 ft. (7.6 meters) deep lava.
From the parking lot, there is a short lava walk to view many "lava trees" and other formations
This is also the trailhead for the popular Pu'u Huluhulu hike.
Learn about the five-year eruption of Mauna Ulu, which dramatically reshaped the landscape in Hawaiʻi Volcanoes National Park.
Last updated: July 13, 2020