Mau Loa o Mauna Ulu
Chain of Craters Road Tour - Stop #5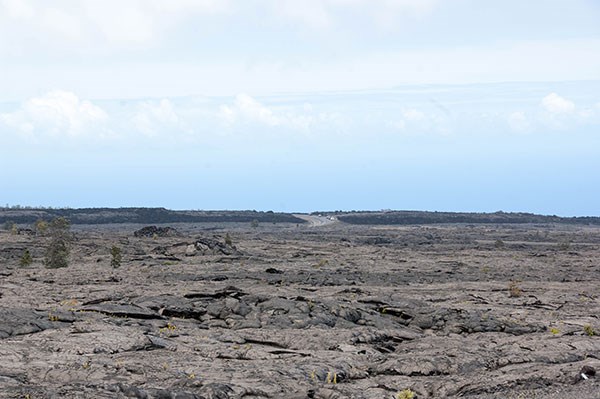 Mau = continuous
Loa = long
O = of
Mau Loa = also may mean: eternal or forever
Mau Loa O Mauna Ulu = "The long continuous growing mountain" or "Forever Growing Mountain"
At this stop you will have an expansive view of the Mauna Ulu lava flow that crossed and re-crossed the Chain of Craters Road. Mau Loa O Mauna Ulu is the start of the Keauhou Trail to the coastal sites.
On the "mauka" (uphill) side of the road, a view of Mauna Ulu and on the "makai" (ocean) side, an awesome view of the Pacific Ocean.
Here you will see the "shiny" glaze of Mauna Uluʻs pahoehoe lava flow. This reflection off of the lava is created from the outer layer of silica, surface glass.
Vegetation in this area is sparse due to the lack of rain and the porous pāhoehoe lava.
| | | | |
| --- | --- | --- | --- |
| | | Distance From the Beginning of Chain of Craters Road | Distance From Kīlauea Visitor Center |
| Stop #1 | Lua Manu Crater | 0.5 mi / 0.8 km | 3.8 mi / 6.1 km |
| Stop #2 | Hilina Pali Road | 2.3 mi / 3.7 km | 5.6 mi / 9.0 km |
| Stop #3 | Pauahi Crater | 3.3 mi / 5.3 km | 6.6 mi / 10.6 km |
| Stop #4 | Mauna Ulu | 3.7 mi / 6.0 km | 7.0 mi / 11.3 km |
| Stop #5 | Mau Loa o Mauna Ulu | 6.4 mi / 10.3 km | 9.7 mi / 15.6 km |
| Stop #6 | Kealakomo Overlook | 9.9 mi / 15.9 km | 13.2 mi / 21.2 km |
| Stop #7 | Pu'u Loa Petroglyphs | 16.3 mi / 26.2 km | 19.6 mi / 31.5 km |
| Stop #8 | Hōlei Sea Arch | 18.8 mi / 30.3 km | 22.1 mi / 35.6 km |
Last updated: April 20, 2020