Lua Manu Crater
Chain of Craters Road Tour - Stop #1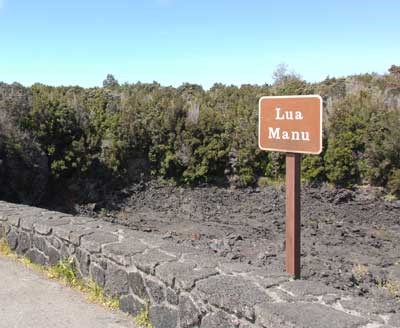 Lua – hole / pit / crater
Manu – bird
Lua Manu – "bird crater"
Lua Manu Crater is approximately 330 ft. (100 meters) in diameter and 125 ft. (38 meters) deep and was formed about 200 years ago. During the 1974 eruption of Keanakāko'i, a fissure opened east of Lua Manu. The lava flow entered into the crater, filling it with about 50 feet (15m) of lava,. However about two-thirds of this lava later drained back into a fissure that cut its east crater wall. The "high lava mark" is still visible on the crater wall. This lava flow also crossed the Chain of Craters Road. Lua Manu Crater is generally considered to be the uppermost crater along the Chain of Craters in the upper east rift zone. Lua Manu Crater was formed when lava drained from the lava chamber deep beneath the surface, creating a void. This void caused the surface to collapse. The crater rim has no tephra (cinder, ash) deposits on the rim, thus indicating that there was no eruption or explosive event in its forming.
Learn more about these gigantic depessions and how they formed
| | | | |
| --- | --- | --- | --- |
| | | Distance From the Beginning of Chain of Craters Road | Distance From Kīlauea Visitor Center |
| Stop #1 | Lua Manu Crater | 0.5 mi / 0.8 km | 3.8 mi / 6.1 km |
| Stop #2 | Hilina Pali Road | 2.3 mi / 3.7 km | 5.6 mi / 9.0 km |
| Stop #3 | Pauahi Crater | 3.3 mi / 5.3 km | 6.6 mi / 10.6 km |
| Stop #4 | Mauna Ulu | 3.7 mi / 6.0 km | 7.0 mi / 11.3 km |
| Stop #5 | Mau Loa o Mauna Ulu | 6.4 mi / 10.3 km | 9.7 mi / 15.6 km |
| Stop #6 | Kealakomo Overlook | 9.9 mi / 15.9 km | 13.2 mi / 21.2 km |
| Stop #7 | Pu'u Loa Petroglyphs | 16.3 mi / 26.2 km | 19.6 mi / 31.5 km |
| Stop #8 | Hōlei Sea Arch | 18.8 mi / 30.3 km | 22.1 mi / 35.6 km |
Last updated: April 21, 2020