Kealakomo Overlook
Chain of Craters Road Tour - Stop #6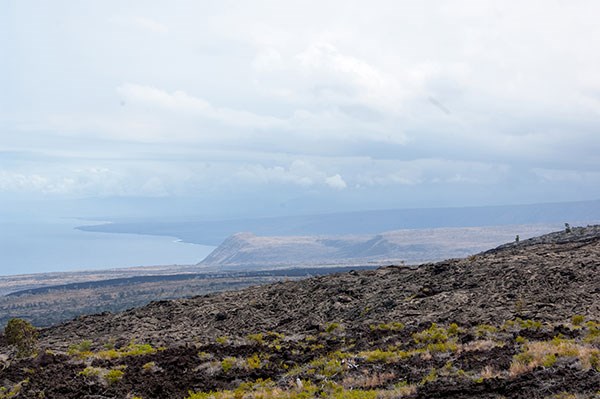 Ke = the
Ala = path
Komo = entrance
Kealakomo = "The entrance path"
From this lookout you will have a panoramic view of the Pacific Ocean and an expansive view of the vast lava field that covered portions of the ancient village of Kealakomo. The lookout is also a great place for a picnic lunch and excellent photographic area.
In this ahupuaʻa (ancient land division) was formally a village on the coast, most likely destroyed and abandoned after the 1868 earthquake and tsunami, then buried by the Mauna ulu flows of 1969-1974. The Mauna Ulu flow created approximately 210 areas of new land. The 'a'ā lava flow appears as dull black and the pahoehoe lava flow appears as silver-grey.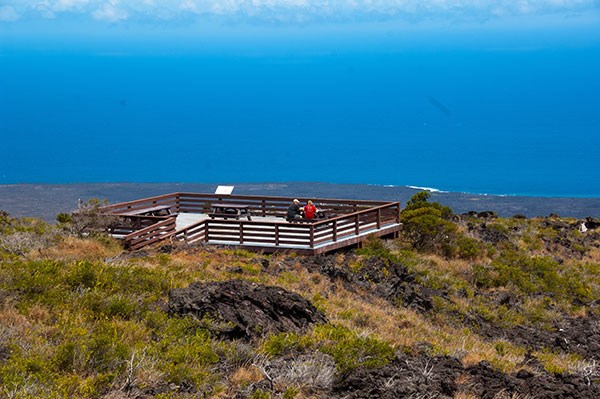 This overlook and exhibit sits on the crest of the Hōlei Pali (cliff). Hōlei Pali is part of a system of faults escarpments along which the coastal area has moved downward relative to the east rift zone of Kīlauea volcanoes. The last major movement of theses cliffs occurred during the massive earthquakes in 1868 and 1975 (magnitude 7.2).
| | | | |
| --- | --- | --- | --- |
| | | Distance From the Beginning of Chain of Craters Road | Distance From Kīlauea Visitor Center |
| Stop #1 | Lua Manu Crater | 0.5 mi / 0.8 km | 3.8 mi / 6.1 km |
| Stop #2 | Hilina Pali Road | 2.3 mi / 3.7 km | 5.6 mi / 9.0 km |
| Stop #3 | Pauahi Crater | 3.3 mi / 5.3 km | 6.6 mi / 10.6 km |
| Stop #4 | Mauna Ulu | 3.7 mi / 6.0 km | 7.0 mi / 11.3 km |
| Stop #5 | Mau Loa o Mauna Ulu | 6.4 mi / 10.3 km | 9.7 mi / 15.6 km |
| Stop #6 | Kealakomo Overlook | 9.9 mi / 15.9 km | 13.2 mi / 21.2 km |
| Stop #7 | Pu'u Loa Petroglyphs | 16.3 mi / 26.2 km | 19.6 mi / 31.5 km |
| Stop #8 | Hōlei Sea Arch | 18.8 mi / 30.3 km | 22.1 mi / 35.6 km |
Last updated: April 20, 2020