Hilina Pali Road
Chain of Craters Road Tour - Stop #2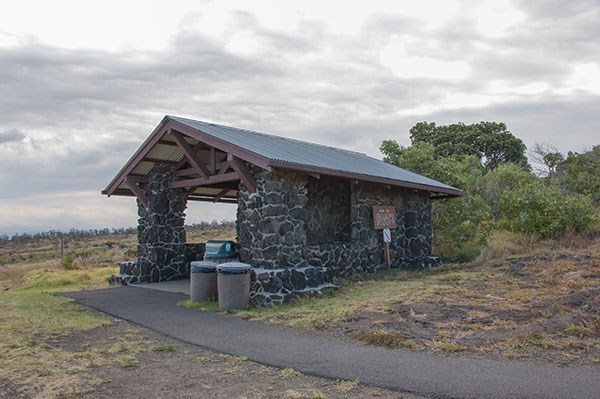 Hilina = struck (as by wind)
Pali = cliff
Hilina Pali = "windy cliff"
Hilina Pali Road was built by the Civilian Conservation Corps (CCC) during the years from 1933 through 1942. The drive to Hilina Pali Overlook is 9 miles (14.5 km).
Hilina Pali Overlook is approximately 2,282 ft (695.6 m) in elevation and over 12 miles (19.3 km) long. The last lava flow in this area was about 650 years ago.
On the drive down the Hilina Pali Road, you will see native 'ōhi'a trees and native under brush. On the left side of your drive, about .9-3.5 miles (1.4-5.6 km) down, you will view the Koaʻe Fault. The Koaʻe fault is known as a "reversed or backward fault" (upper section/wedge, between rift zones and caldera, slips down into the void, therefore inland facing fault scarp/pali called Kulanaʻokuaiki). The Koaʻe fault lies between the east/southwest rift zone of Kīlauea Volcano. This fault is about 10 miles (16.1 km) long, 1.5 miles (2.4 km) wide and 50 ft. (15.2 meters) high.
The fault extension was created by the slippage of the ground between the northern and southern parts of Kīlauea. It is separating about 0.5 inches (12.7mm) –3.0 inches (76.2mm) per year.
Note: Hilina Pali is the largest scarp on the south flank of Kīlauea. It's very windy most of the time.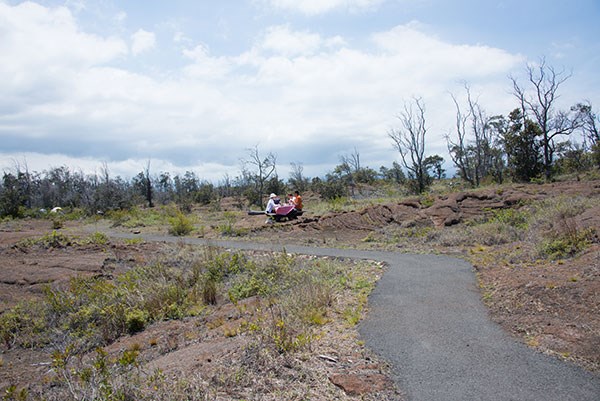 Kulanaokuaiki Campground
Kulana = to rock / sway / warble
O = of
Kua = spine
Iki = little / small
Kulanaokuaiki = "the little trembling spine" / shaking of a sharp ridge
This campground is located about 5 miles down the Hilina Pali Road at 2,700' elevation. There is NO WATER at this location. There are 8 campsites. 2 of the sites are wheelchair accessible. There is a vault-type toilet (no running water), and picnic tables. Fires are NOT permitted.
Nightime temperature range: high 40s to high 60s F. Daytime temperature range: high 60s to 90s F. We suggest that you use a tent with a good rainfly and bring warm clothing for cool days and evenings.
| | | | |
| --- | --- | --- | --- |
| | | Distance From the Beginning of Chain of Craters Road | Distance From Kīlauea Visitor Center |
| Stop #1 | Lua Manu Crater | 0.5 mi / 0.8 km | 3.8 mi / 6.1 km |
| Stop #2 | Hilina Pali Road | 2.3 mi / 3.7 km | 5.6 mi / 9.0 km |
| Stop #3 | Pauahi Crater | 3.3 mi / 5.3 km | 6.6 mi / 10.6 km |
| Stop #4 | Mauna Ulu | 3.7 mi / 6.0 km | 7.0 mi / 11.3 km |
| Stop #5 | Mau Loa o Mauna Ulu | 6.4 mi / 10.3 km | 9.7 mi / 15.6 km |
| Stop #6 | Kealakomo Overlook | 9.9 mi / 15.9 km | 13.2 mi / 21.2 km |
| Stop #7 | Pu'u Loa Petroglyphs | 16.3 mi / 26.2 km | 19.6 mi / 31.5 km |
| Stop #8 | Hōlei Sea Arch | 18.8 mi / 30.3 km | 22.1 mi / 35.6 km |
Last updated: April 20, 2020