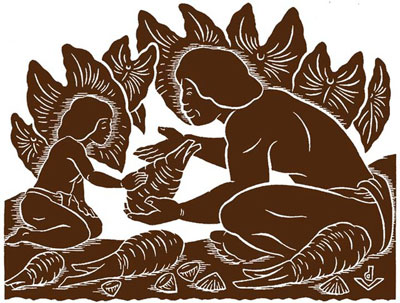 Free Family Event
Saturday, July 13, 2013
10:00 a.m. to 3:00 p.m.
Kahua Hula
(hula platform)
South of Kīlauea Visitor Center
Theme:
Ka 'ike o ke keiki:
i ka nana a 'ike; i ka ho'olohe no a maopopo; i ka hana no a 'ike
The learning of a child:
by observing, one learns; in listening, one commits to memory; by practice one masters the skill
---
Enjoy hula kāhiko and music
Keiki o Hālau o Kekuhi, Hālau Ulumamo o Hilo Palikū, Hula Hālau Ke 'Ōlu Makani o Mauna Loa, Leabert Linsey and Diana Aki.
Watch skilled practitioners demonstrate their art
Learn how to beat kapa, weave a lauhala hat, sew a feather lei, create a native garden, use plants as medicine.
Try your hand at Hawaiian crafts
Play Hawaiian games, weave a coconut basket and lauhala bracelet. Make a feather kāhili and traditional lei. Taste taro, sweet potato, sugar cane and breadfruit.