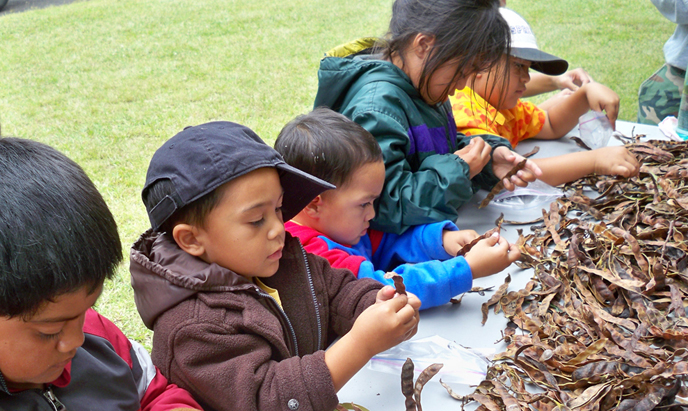 News Release Date:
June 6, 2014
Contact: Jessica Ferracane, 808-985-6018
Hawaii National Park, Hawai'i – Youngsters nine to 12 years old are invited to become junior rangers through the park's Keiki o Hawai'i Nei summer program. The fun-filled, four-day program begins Tuesday, June 17 and ends Friday, June 20. On June 17 and 20, the program is from 8:30 a.m. to 2:30 p.m.; on June 18 and 19, from 7:30 a.m. to 4 p.m.
Keiki o Hawai'i Nei is designed to encourage a child's enthusiasm for discovery by connecting them with the park's resources and staff, and to inspire their appreciation of what is uniquely Hawaiian by exploring the natural and cultural heritage of Hawai'i.
Participants must bring and be able to carry their own day pack with water, snacks, lunch, and raingear, and hike up to three miles at a leisurely pace. To reserve a space for your child, call the park's Education Center at (808) 985-6019. Speak clearly and leave your name, email address, phone number, name of child, the child's age, and gender. You will be emailed a registration form to complete and return.
Reservation deadline is Friday, June 13.
On Tuesday and Friday, children will explore Hawai'i Volcanoes National Park, and on Wednesday and Thursday, they will visit the national parks on the west side of Hawai'i Island. Transportation is provided, and there is no cost to enroll. 
 -NPS-