Current Kilauea Volcano Activity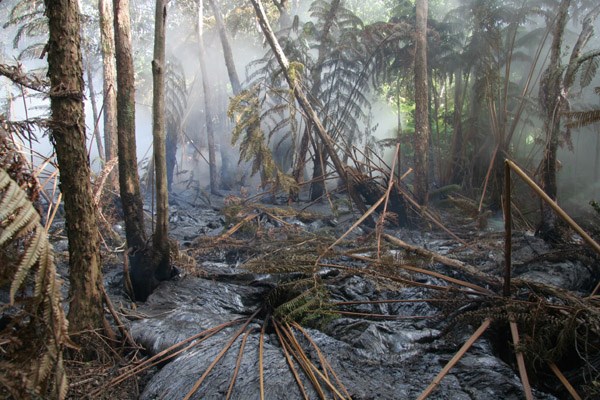 Episode 56
A flurry of earthquakes early Sunday morning, Father's Day, June 17, 2007, alerted scientists to an intrusion of magma into the east rift zone of Kilauea. The subsequent brief eruption occured several miles east of the park's Kilauea Visitor Center. This is Episode 56 of the on-going Pu`u `O`o eruption of Kilauea, the longest rift zone eruption in more than 600 years.
Keep abreast of the progress of this event and the exciting changes on Kilauea by visiting the links below.
Advisories and Area Closures
Daily updates and advisories by park staff on road and area closures.
The following are links to exhibits designed for Hawai`i Volcanoes National Park's visitor centers and offer insights into this episode:
Adobe Acrobat Reader is required to view these files. This program can be downloaded for free at www.adobe.com.
Kilauea Volcano Daily Update
Report prepared by the USGS Hawaiian Volcano Observatory (HVO)
Additional information and photographs are available from the USGS Hawaiian Volcano Observatory website: hvo.wr.usgs.gov.
Last updated: February 28, 2015