Turtles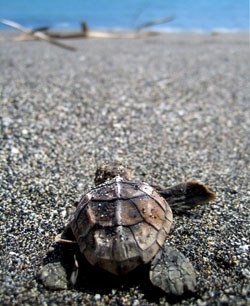 Called Honuʻea or ʻEa by the Hawaiians, the hawksbill (Eretmochelys imbricata), is an endangered sea turtle that lives in the waters of the islands. They are known to nest on nine beaches on Hawaiʻi, on one beach on Maui and at an unknown number of locations on Molokaʻi. Three of the beaches on Hawaiʻi are protected along the remote coast here in the park at Halape, Apua Point, and Keauhou.
Loss of nesting habitat, predation and poaching (their shells make attractive jewelry, illegally sold worldwide as tortoiseshell) have reduced turtle populations to critically low levels.
Late May signals the nesting season, which extends to December. A female waits until night to crawl ashore in search of a suitable site on the beach near vegetation. She uses her strong flippers to dig a flask-shaped cavity. After she deposits an average of 178 eggs she covers the nest with sand. Exhausted, she returns to the sea, leaving the eggs to incubate during the next two months.
Working as a team, the tiny hatchlings scrape the sand off the roof of the cavity and pack it on the floor. In doing so, they raise their nest toward the surface of the beach. When they are about an inch from the surface, they test the sand. If it is cool, an indication of darkness, they emerge from the nest as a group and scramble to the water. Any artificial light source may attract the hatchlings and cause them to head away from the water, get stranded and die.
PROTECT THE HAWKSBILL TURTLES .......
WHAT CAN I DO TO HELP?
Protect endangered hawksbill turtles by observing the following regulations:
Do not camp or take livestock on sandy nesting beaches because you may disturb female turtles, their eggs or hatchlings.
Direct flashlights away from the ocean and do not build campfires. Fires and lights will disorient nesting female turtles and hatchlings.
Keep your campsite clean of food scraps. This will help keep away predators such as mongoose and feral cats.
Allow turtles access to the nesting beaches by keeping inlets free of cross nets.
Return turtle sighting reports to Park Rangers when checking out from the backcountry. Time, date, and location of sightings are important information. Volunteer Federal and state laws protect all Hawaiian sea turtles from harassment, harm, pursuit, shooting, killing trapping, or collecting.
Federal and state laws protect all Hawaiian sea turtles from harassment, harm, pursuit, shooting, killing, trapping, or collecting.

Technical Report 178 - Twenty Years of Conservation and Research Findings of the Hawaii Island Hawksbill Turtle Recovery Project, 1989-2009 (January 2012)
pdf file - 6.4MB - 126 pages
You may access the report here (external website):
https://scholarspace.manoa.hawaii.edu/bitstream/10125/33196/v178.pdf


Last updated: October 7, 2019